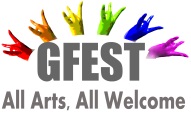 On the 10th November the UK's premier festival for LGBTQI culture returns to venues across London for its seventh year running with a world-class programme of film, dance, art and performance, this year responding to the festival theme of Myths and Mythology.
GFEST – Gaywise FESTival® was founded in 2007 by London-based arts charity, Wise Thoughts, and has since become a major annual event in UK's cultural calendar and a key commissioning platform for emerging and established LGBTQI artists.
Highlights of this year's line-up include an exclusive British screening of Brazil's controversial 2015 BAFTA submission, The Way He Looks by Daniel Ribeiro; the global premiere of a newly commissioned work by renowned South-Asian dance guru, Justin McCarthy; the London premiere of Brace by acclaimed independent-British filmmaker, Jake Graf; award winning cabaret from Bird La Bird and Mizz Kimberly; and newly commissioned works form the UK's foremost feminist artist, Sadie Lee, among others.
The Myths and Mythology theme seeks to explore the commonly held ideas and misconceptions surrounding LGBTQI communities across the globe. The long-term goal of the festival is provide LGBTQI artists with a platform for expression while developing audiences for LGBTQI among both Gay and Straight audiences.
Niranjan Kamatkar, Artistic Director said, "GFEST 2014 brings together an inspirational line-up of film-makers, artists, and  performance dancers, each united in their aim to dispel the modern  myths and stereotypes surrounding LGBTQI cultures. Working with the commissioned artists to showcase their work at this year's festival has been truly inspirational. The GFEST platform for expression demonstrates that arts can be used to build bridges between gay and straight communities for generations to come."
Ben Cohen, CEO of PinkNews, GFEST 2014 media partner said, "GFEST is an important and unique celebration of LGBTQI related and originated arts in London. PinkNews are extremely pleased to continue to support its diverse activities. The diversity and longevity of GFEST is a testament to the brilliant and dedicated work by the team at Wise Thoughts who work  throughout the year to provide a compelling alternative arts festival for London and an important services for the LGBQI community."
http://gaywisefestival.wordpress.com/
Twitter: @GFEST     Facebook: GFESTGaywiseFESTival       Instagram: GFEST
Comments via Facebook
comments