BENT USA – THE SAND BLAST WEEKEND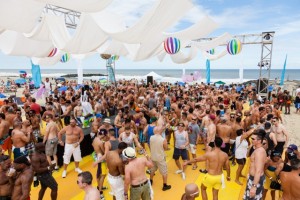 This summer, thousands of gays and lesbians will converge on the charming and newly popular seaside town of Asbury Park for Sand Blast, the annual LGBT party weekend on the Jersey Shore.
Taking place Friday, 19th July thru Sunday, 21st July , this year's festivities will feature 23 thrilling activities from surfing to guided bike rides, beach dodge ball, a burlesque show, a downtown art gallery walk, two pool parties, nighttime dance extravaganzas and The Beach Party, the weekend's main soak-in-the-sun event with music by DJs Tony Moran and Hector Fonseca. Over 4,000 people attended last summer's event.   This summer's Sand Blast Weekend promises to be even bigger and wetter!
"Bringing the legendary producer and remixer Tony Moran to headline Saturday afternoon's The Beach Party has been a goal of ours for years", said Brad Hurtado, event founder & executive producer, at this morning's announcement.  "As if that's not enough, securing the super hot Hector Fonseca to spin the first three hours is a double whammy."
In fact, Sand Blast Weekend will showcase a slew of the hottest DJ talent playing today including Atlantis Cruise favourite DJ Grind whose popularity has skyrocketed in recent months with over a million downloads of his weekly podcast.  Also featured will be NYC favourites Eddie Martinez, Steve Sidewalk, Nando, Corey Craig, James Anthony, Stacy, Mick Hale and Susan Levine.
What makes Sand Blast Weekend different from other gay party weekends is that in addition to its high-energy dance parties, Sand Blast offers many relaxing activities to enjoy.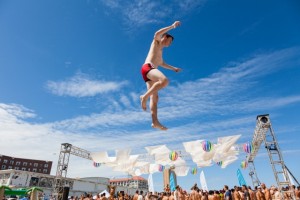 "Sand Blast is about discovering Asbury Park as a gay-friendly resort community and making it your own," explains Hurtado. "We want our guests to go off and explore the entire town and boardwalk and enjoy all that this Jewel on the Jersey Shore has to offer. It's not just a place to come once a year; it's a destination we hope guests return to again and again. We like to think of Sand Blast Weekend as the Atlantis Cruise of circuit parties, because, like Atlantis, in addition to our roster of main party events, we have tons of fun activities to offer our guests all weekend."
The gay community began pilgrimaging to Asbury Park in 1999 and 2000. At the time, the city was in terrible condition with an abandoned mile-long boardwalk, a downtown with just a handful of stores open amidst block after block of boarded up storefronts and a residential neighborhood packed with turn-of-the-century Victorian houses in falling down condition. A small handful of NYC gays, who'd recently taken the plunge and bought a weekend house, decided to throw a summer party and invite their friends to come see the stunning beach and gorgeous old houses a few blocks from the ocean that were selling for under $100,000. They called the weekend Road Trip Asbury Park.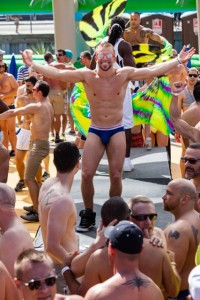 The first event was held in 2000 at a local gay nightclub with about 100 guests in attendance.  It was considered a great success at the time – even Cyndi Lauper performed.  The following day, locals hosted house parties, picnics and tours of the city showing guests the houses they could snap up for a song.
"Right from the beginning we knew we had to make it an annual event," remembers Hurtado.   "In the days after that first weekend our local realtors began fielding calls from gays and lesbians looking for weekend homes.  We immediately began planning for our next year's event."
The second summer, Hurtado and party organizers added a Friday night mixer at the only bar on the beach. About 250 people attended the weekend, including RuPaul who came for the Saturday night party.  Soon, more gay homeowners began weekending in Asbury Park.  By 2007, Asbury Park had a gay mayor, a gay school board president and half the city council was gay! Together they helped beautify the city and bring new life and businesses to town.
Meanwhile, each year more events and activities were added to Road Trip Asbury Park. In 2008, against the advice of the rest of the volunteer team, Brad Hurtado decided to launch a circuit-style daytime dance on the beach. No one else wanted to accept the burden and expense of such a large party so Hurtado took the financial risk on himself, taking out an equity line of credit on his Asbury Park home. His partner, Sean, named the party Sand Blast.
It was a hit from the start and soon became the marquee event of the weekend.  By 2010, the weekend's name was officially changed to Sand Blast and The Beach Party propelled the weekend into new heights of popularity.
"I've learned through the years that our weekend's growth depends on ensuring that our guests' experiences are smooth and trouble free," explains Hurtado. "They come to the beach to escape the work week's drama for fun and relaxation in the sun.  We make sure they have everything they need to make their beach weekend a blast."
Last year's Sand Blast attracted over 4,000 attendees. It also saw the addition of two Saturday night parties: The DEEP BLUE Dance Party and an underwear party hosted by XTube's favorite couple, The Maverick Men. Both events proved to be hugely successful and will be returning for this summer's weekend with DJ Grind headlining URGE: The Underwear Party and hot circuit star DJ Phil B headlining DEEP BLUE with a killer opening set by DJ Nina Flowers from TV's RuPaul's Drag Race.
In addition to offering a feast for the ears, organizers are working overtime to provide a feast for the eyes this year.  Visual entertainments include Olympic-caliber trampoline athletes at Saturday's Beach Party, and Team New York Aquatic's sexy gay water polo crew performing a ten-minute scrimmage and an in-pool synchronized swimming show during Sunday's Riptide Pool Party.
Luckily for Asbury Park, the city avoided the devastation from this past winter's Hurricane Sandy.  Whether due to its slightly higher elevation or just the luck of where the storm hit, the mile long boardwalk suffered only two damaged spots that have already been repaired. Asbury Park's quirky shopping district and the magnificent Victorian residential neighborhoods were also unscathed. With so many other beach towns devastated by Sandy, it's predicted this summer will be one of the biggest and busiest summers in Asbury Park, making it the best time ever to experience Sand Blast Weekend.
Weekend passes start at $165. The Saturday-only pass is $110 and the Sand Blast Women's Pass is $85. The elegant Berkeley Oceanfront is the host hotel for Sand Blast Weekend. 3-night super saver rates start at $240 per night.  2–night  stays start at $289 per night.
For more information on SAND BLAST WEEKEND, visit www.SandBlastWeekend.com
Comments via Facebook
comments