History, culture and off-duty army lads! Adrian Gillan hails city sights and nearby Stonehenge – in sexy Salisbury! All just a short chug away on super South Western Railway! Maybe for Pride!
by Adrian Gillan for Bent Magazine and Bent Gay Shop
Salisbury is the only city in Wiltshire, in the southeast of that county – near the edge of Salisbury Plain, itself home to Stonehenge and a big military firing range! It is famous for having a cathedral, which used to be found a little north, at Old Sarum, before being relocated south, to its current position, in the 13th Century, where a settlement sprang up around it, superseding Old Sarum: New Sarum, now Salisbury.
The present-day city and cathedral, plus Old Sarum and the ruins of the former cathedral there, attract visitors. As doubtless do the sexy squaddies, still hot 'n fighting-fit from manly manoeuvres on the plain!
And you too can be here in scarce 1½ hours direct from London Waterloo on South Western Railway, whose £1.2bn investment plans include an as-new fleet of trains between Portsmouth and London, by December 2018; a brand new fleet of 90 trains, with a massive increase in overall seating capacity, into and out of Waterloo, by December 2020; a £90m investment in improving stations; a refurbishment of the entire existing train fleet; quicker and more frequent journeys generally; and an enhanced info and ticket-buying experience! We love 'em!
Sights
And there's so much to see in this small-yet-beautiful 40,000-populated Wiltshire wonder…
Stonehenge – UNESCO World Heritage Site, 8 miles northwest of Salisbury. Walk in the footsteps of your Neolithic ancestors at one of the wonders of the world and the best-known Prehistoric monument in Europe. Also explore the ancient landscape on foot and enter reconstructed Neolithic Houses to discover the tools and objects of everyday Neolithic life. Visit the world-class exhibition and visitor centre with its 250 ancient objects.

Stonehenge

The Stonehenge (Bus) Tour – By far the easiest and best-value way to visit Stonehenge, plus Old Sarum and Salisbury Cathedral! This frequent hop-on-off-on multi-lingual audio-commentary bus tour picks up in Salisbury city centre and runs through the beautiful Wiltshire countryside to the magnificent, magical henge; then back to town via ruinous Old Sarum. All-in-one tickets give priority entrance to Stonehenge, its visitor centre and Old Sarum, as well as the bus tour – and, for a little extra, even Salisbury Cathedral too! Or just pay for the bus tour and enjoy the audio-guided ride through the hypnotically undular landscape!

Stonehenge Tour Bus

Salisbury Cathedral – Anglican cathedral whose main body was completed in just 38 years, from 1220 to 1258. Since 1549, it has boasted the tallest church spire (123m) in the UK. It also has the largest cloister and the largest cathedral close in Britain; one of the oldest working mechanical clocks in the world; the best surviving of the four original copies of Magna Carta in the breathtakingly light-'n-airy Chapter House; and the most amazing reflective 'infinity font' ever! No formal entry fee – but they do rely entirely on voluntary donations!

Salisbury Cathedral
Salisbury Playhouse
No trip to Salisbury is complete without a visit to its renowned 520-seater Playhouse and/or 150-seater Salberg Studio, delivering top-notch in-house, co-produced and toured-in shows since 1976! Highlights of its Spring/Summer 2018 season include thriller Gallowglass (3-7 April 2018), spooky musical Moonfleet (19 April – 5 May 2018), Macbeth (10-12 May 2018), Love on the Links (31 May – 23 June 2018), Whisky Galore (25-30 June 2018) and much, much more! If you missed the excellent recent production of Oscar Wilde's The Importance of Being Earnest – starring Gwen Taylor as Lady Bracknell – you might still catch it on tour at a theatre near you until mid-May 2018!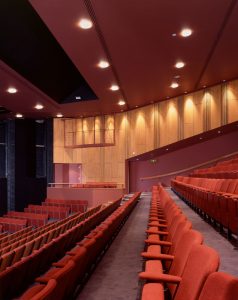 Don't miss SQUAWK LGBTQIA Festival on at Salisbury Arts Centre, 16-21 April 2018, celebrating diversity through a week of exciting performances, films and workshops!
Scene & Prides
There mightn't be a single gay bar in town – you'll need a short ride to Bath, Bristol, Bournemouth or Southampton for that! Indeed, this isn't Soho, Kemptown or Canal Street, that's true, but gorgeous young locals and army lads abound and, with modern dating aps, the pretty boys are rarely far away!
Keep 'em peeled for the 3rd Salisbury Pride this July/Aug (2018 date TBC) with its city centre Parade!
Likewise, as details emerge, keep 'em peeled for Swindon & Wiltshire Pride, normally July/Aug. Founded in 2009 and hubbed in nearby Swindon!
Salisbury is scarce more than 1½ hours direct away from London Waterloo by wonderful South Western Railway.
– ends –