Travel – We are Family, especially in Edinburgh!
By Adrian Gillan   
      Great Scot! More and more gay families now include children – adopted, biological, maybe even from previous heterosexual relationships. So where better to take your little darlings than for a fun few days out in gay-wooing Scottish capital, Edinburgh? Maybe even for Pride!
Edinburgh is a fab gay place; and a fab place for kids. So, if that ticks both your boxes, where better?
From medieval Old Town with Castle, Vaults and Royal Mile, to Georgian New Town with its stucco squares, this "Athens of the North" blends historic heritage with living culture and even boasts its very own well-nigh "inner-city mountain" – extinct volcano, Arthur's Seat!
And this whole delight is under 4½ hours from London Kings Cross by wonderful Virgin Trains East Coast – even closer from other parts of England and Wales! Enjoy discounted fares for children aged 5 – 15, and take up to two kids under five free of charge!
STAY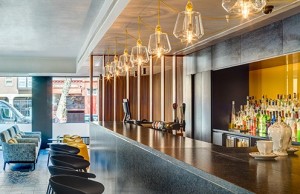 For contemporary luxury, stay at 4-star Apex City of Edinburgh Hotel (61 Grassmarket, Edinburgh EH1 2HJ; T: 0845 365 0000;), in the Old Town, just south of the castle. This recently refurb'd affair boasts 120+ comfortable, stylish and spacious rooms an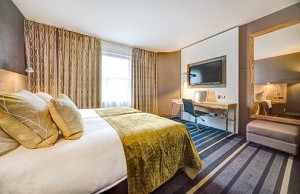 d suites, all with walk-in shower, plus complimentary water, Wi-Fi, Elemis toiletries and coveted Apex bath duck: yours to keep – for ever! Some rooms even afford castle views. Drink or dine at the Apex's Agua Bar & Restaurant, for classic food with a contemporary twist. Ace breakfasts 'n all! Check out the DVD lending library, plus free-use pool and gym at neighbouring Apex International Hotel.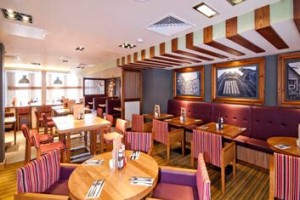 Or stay at family-friendly, great-value 3-star Premier Inn Edinburgh City Centre (121-123 Princes Street, Edinburgh EH2 4AD; T: 0871 527 9358;), situated on one of Scotland's most famous streets – just north of the castle, over the road from the park! Wake-up-wonderful after a great night's sleep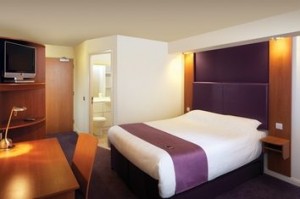 in a range of rooms – including 'family', with 2 pull-out beds, where up to two kids under 16 stay for free and get a free breakfast. Enjoy complimentary Wi-Fi, pillow-top mattresses and en-suite bathrooms with showers. The hotel's Thyme restaurant offers a delicious mix of freshly prepared traditional and contemporary dishes, all reasonably-priced, with a fab Kids' Menu and meal deals!
TOP TEN THINGS TO DO WITH CHILDREN IN EDINBURGH
Some highlights for you and your kid or kids:
Edinburgh Bus Tours – Get a new view from the upper deck aboard a range of top-notch hop-on-off bus tours, exploring sights including Edinburgh Castle, Palace of Holyroodhouse and Royal Botanic Garden – complete with multi-lingual commentary or English-speaking guide. Most tours last an hour if you stay on all the way round, but tickets are valid for 24 hours so hop-on-off ad lib. Grand tickets give you access to all city tours for 24 or 48 hours. Royal tickets includes a Grand 48 hour ticket, plus admission to Edinburgh Castle, Palace of Holyroodhouse and Royal Yacht Britannia. The green Edinburgh Tour is a great introduction to Edinburgh's Old and New Towns. Keep the kids entertained with the Horrible Histories commentary on board City Sightseeing buses. Other tours include the vintage MacTour, the Majestic Tour to Leith, and the Forth Bridges Bus & Boat Tour taking in spectacular views of Edinburgh's coastline.
Edinburgh Castle – Explore this world-famous Scottish icon, dating back to the 12th Century – part of the city's World Heritage Site and Scotland's most-visited paid-for tourist attraction. Take in St Margaret's Chapel; the Great Hall; the Half Moon Battery; the Honours (Crown Jewels) of Scotland; the Stone of Destiny; the Mons Meg gun; the One O' Clock Gun; and the National War Museum of Scotland. Guided tours are provided by castle stewards, or an audio guide tour is also available.
Camera Obscura & World of Illusions – Edinburgh's oldest purpose-built visitor attraction has been wowing tourists since 1835, now with its Aladdin's cave of illusions, tricks, puzzles, hands-on experiences and unbelievable effects to experience and truly interact with. Turn your world upside down inside the Giant Pinhole Camera! Spot how hot you

really

are through the Thermal Camera! Will you find your way out of the Magical Mirror Maze? Can you shrink yourself like Alice in Wonderland in the amazing Ames Room? Will you stay on your feet in the Vortex Tunnel? Fab hologram gallery too, plus eponymous Camera Obscura itself – with its amazing live moving panorama of this deliriously buzzing city!
Royal Yacht Britannia – This former royal yacht of Queen Elizabeth II saw service from 1954 to 1997. The world's poshest ship is now a 5-star visitor attraction, permanently majestically moored in the northern waterside district of Leith. Excellent audio-guide; plus light-and-airy lofty Royal Deck Tea Room!
Arthur's Seat – This highest peak (250m) of the group of hills in Holyrood Park is situated about a mile east of Edinburgh Castle, and is relatively easy to climb yet provides superb panoramic views of the city. Both Seat and castle mount were formed by recent west-to-east glacial action on an extinct volcano system – both boasting rocky crags to the west with moraine slopes swept east.
Our Dynamic Earth – This 5-star visitor attraction takes you on a journey through time to experience the story of planet Earth. Through a series of interactive exhibits, state-of-the-art technology and even a 4D encounter you will feel the heat of a bubbling volcano, face the chill of polar ice and fly across the globe before crash landing in a tropical rainforest. Also home to Scotland's only 360-degree full-dome film theatre, the ShowDome!
Calton Hill – Views of, and from, this hill are often used in photographs and paintings of the city. Part of the city's UNESCO World Heritage Site, iconic monuments and buildings up here include the National Monument, Nelson Monument and City Observatory!
Ghost Walk – Talented Mercat Tour guides truly relish bringing the city's past alive, both historic and haunted, reaching the parts, on foot, that other tours can't reach! A range of daily scheduled tours run all-year-round from the Mercat Cross on the High Street / Royal Mile – ghost tours and history tours, both daytime and evening, covering Old Town and New Town… even, exclusively, the notoriously haunted Blair Street Underground Vaults!
King's Theatre – This 1350-seat gem was opened in 1906 and is one of Scotland's most historic and important theatres. Imminent productions include Agatha Christie's 'And Then There Were None' and 'A Murder Is Announced', plus Oscar Wilde's 'The Importance of Being Earnest'. Regular backstage tours too!
Royal Lyceum Theatre – Built in 1883, this little 650-seat beauty is believed to be haunted, with sightings of a blue lady – possibly the famous Victorian actress Ellen Terry, who performed in the Lyceum's very first show – plus a shadowy figure oft seen high above the stage in the lighting rig, normally accompanied by a ringing noise! Imminent productions include Sarah Waters' 'Tipping the Velvet' and Christmas show, C.S. Lewis' 'The Lion, the Witch & the Wardrobe' – perfect for your little high-brow darlings! Don't miss the acclaimed Lyceum Youth Theatre too!
Also check out ancient St. Giles' Cathedral and the nearby Writers' Museum. For art, visit the Scottish National Gallery, Scottish National Gallery of Modern Art and Scottish National Portrait Gallery. For history, try the National Museum of Scotland, Museum of Edinburgh, People's Story, Museum of Childhood or quirky well-nigh gory Surgeons' Hall Museum!
Relax in leafy Princes Street Garden – seemingly a million miles away from all the shops just up on the eponymous road – in which park, if you muster the energy, you can also climb the Scott Monument for fab views. At the east end of the Royal Mile, tour the old Palace of Holyroodhouse and new Scottish Parliament nearby!
SCENE & PRIDE EDINBURGH
Of course, you're unlikely to sneak your sprog past the bouncers at one of the many bars and clubs in the Broughton locale at the foot of folly-filled Calton Hill, and – even where its licence permits it – a pub can be a bit of a bore in a child's bigger scheme!
So you mightn't take them to The Street (2 Picardy Place;); Planet (6 Baxter's Place;); Habana (22 Greenside Place;); or The Regent (2 Montrose Terrace; T: 0131 661 8198;). And definitely not into two-levelled club CC Blooms (23 Greenside Place;)… however fun!
But they would surely enjoy a nice soft drink and snack in colourful Café Nom de Plume (60 Broughton Street;), adjoining the excellent LGBT Centre.
Moreover, all ages love a party! And, one of the best community Pride Festivals in the UK, Pride Edinburgh (formerly Pride Scotia) will be celebrating its 21st Birthday in June 2016!
And Edinburgh does, of course, host another fairly well known "Festival" – in reality, a clutch of fests – every summer! This may be the world's largest cultural event – the number of tickets sold exceeded only by Olympics and World Cup. Great for kids!
You can reach Edinburgh from London in under 4½ hours by Virgin Trains East Coast, even faster from closer stations. Children aged 5 – 15 enjoy discounted fares, and you can take up to two kids under five free of charge!