Do you agree with gay adoption?
by Terry Gee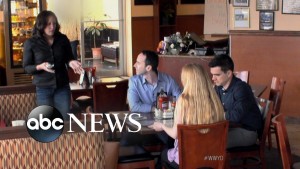 Everyone has their own opinions and points of view, but is it right to air them in public?
We all know the concept of a hidden camera show – most have hilarious outcomes with everyone smiling at the end. What Would You Do takes it one step further and explores topical issues while using hidden cameras and actors in a real setting.
In this episode, a young, pregnant girl is meeting a couple for possible adoption of her baby. The couple who enter are gay. The girl, the couple and the antagonist are all actors but everyone else in the restaurant is real and unaware that this is a staged scene.
What would you do if you were dining in a restaurant and this scene broke out in front of you?