'GAY BULL' SAVED FROM SLAUGHTER BY THE SIMPSONS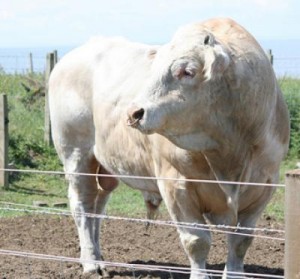 Benjy – the Irish bull facing slaughter for being gay – has had his freedom bought by a Hollywood producer.
When he learned from PETA that the bull in County Mayo was being fattened for slaughter after a veterinarian declared his sexual orientation the reason he wouldn't breed, Simpsons co-creator and philanthropist Sam Simon put up the £5,000 to buy Benjy and transport him to a sanctuary where he'll be able to live out his natural life with peace and dignity. Benjy's transfer is expected to take place in time for Christmas.
In addition to the money fronted by Simon, more than 250 other individuals have donated to fund the bull's transfer via a crowd-funding initiative set up by Irish animal-protection group ARAN and TheGayUK.com. PETA hopes that those moved by Benjy's plight will extend their empathy to the billions of other animals on farms who, like Benjy, are denied their most basic freedoms. People can do that every time they sit down to eat simply by leaving animals off their plates.
"PETA told me about Benjy, and I felt compelled to help. All animals have a dire destiny in the meat trade, but to kill this bull because he's gay would've been a double tragedy," says Simon, a long-time vegan. "It thrills me to help PETA and ARAN make Benjy's fate a sanctuary rather than a sandwich."
Simon is facing a life-threatening battle himself. He was diagnosed with terminal cancer in 2012 and has chosen to use his resources and the time that he has left to help a number of animals in need, including getting 17 bears transferred from virtually barren concrete pits to a lush new home, helping retire a lame horse used for racing, securing the transfer of a chimpanzee who had spent more than 18 years in solitary confinement at a zoo to a reputable sanctuary and running The Sam Simon Foundation, an organisation dedicated to rescuing and rehabilitating homeless dogs.