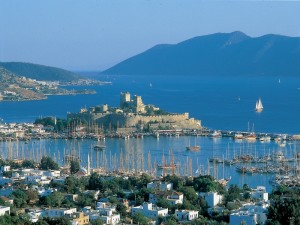 History, culture, nightlife: Adrian Gillan falls in love with Bodrum, jewel of the Turkish Riviera…
On a beautiful peninsula where the Aegean meets the Med, Bodrum is one of Turkey's most dramatically beautiful resorts, famous for its history plus its modern, friendly, well-nigh Bohemian, feel.
Its current name is derived from the Greek for Peter (petra = 'stone'), and indeed St. Peter's Castle – built by the Knights of Rhodes – dominates its vast deep-blue bay. Now a museum of underwater archaeology, separating the large marina from the harbour, the 15th Century castle is young compared with other ruins in this ancient city of "Halicarnassus" – such as the 4th Century BC tomb of now-eponymous King Mausolus, itself one of the Seven Wonders of the Ancient World; or the vast 2nd Century BC hillside theatre overlooking everything. Fitting, then, that Herodotus, the "father of history" –oft considered the first "modern" historian – was born here.
Time difference: GMT +2. Flight time from UK: 3½ hours. Bodrum airport is about 20 miles outside the city. The best and cheapest way to get around town, and the region, is by 'dolmuş' – a shared taxi following a fixed route. Money: 3.5 Turkish Lira = £1 approx. Inexpensive tourist visas can be easily bought in advance online; or at the airport on arrival. Note: Don't be at all surprised if you're woken, occasionally, by the odd, very mild, earth tremor, as continental plates gently shift and collide!
STAY
There are hundreds of gay-friendly accommodation options in Bodrum – from budget Bodrum Backpackers (Ataturk Cad. 31/B, Bodrum;), scarce 100m from the beach, with its own sexy young staff and roof-top bar, right up to a fair few all-inclusive 5-star resorts.
SEE 'N DO
More than just fab beaches and bars! Some absolute musts:
Castle of St Peter (Bodrum Castle) – 15th Century fortress overlooking the bay, now a museum of underwater archaeology, featuring the famous Uluburun Shipwreck, one of the earliest and richest wrecks yet discovered off the Turkish coast.
Amphitheatre – 2nd Century BC Roman-era theatre, high on a hill, on the road to Gumbet.
Mausoleum – 4th Century BC ruins, a short stroll uphill from the marina, and once one of the Seven Wonders of the Ancient World, built by the sister (and wife) of now-eponymous King Mausolus. The mausoleum was destroyed in a quake, its rubble used in building Bodrum Castle, with many statues and reliefs 'moved' to The British Museum by Victorian archaeologists.
Myndos Gate – The old city gates, now partially reconstructed, and scene of one of the bloodiest battles during the city's siege by gay Alexander the Great.
Windmills – On the peninsula just opposite the castle, these seven white structures can be found on the hill between Bodrum bay and adjoining Gumbet bay, overlooking a small land-linked 'island', all so beloved by outdoors gents (see below).
Zeki Müren Museum (Kumbahce Mah. Zeki Müren Street 11, Bodrum, near Club Halikarnas) – Final home and posthumously gloriously kitsch shrine of the hugely popular and highly effeminate male singer, Zeki Müren – a Turkish Liberace-cum-Danny La Rue. Amazing costume collection!
Hamam (Cevat Sakir Cad. Fabrika Sokak 42;) — Turkish baths, just inland from the harbour, straight across from the bus station. Men and women bathe simultaneously but (thankfully) in quite separate areas. Alas a tad too touristy to really make the gay grade though.
Day trip to Kos (Greece) – just 20 minutes by hydrofoil, or 50 minutes by ferry. Do the 2-3 hour walking loop route that takes in most of the main historic sites in Kos town, including the fort; Hippocrates' tree, under which he supposedly taught his student doctors; Ottoman baths and mosques; a feast of Greco-Roman ruins; Greek Orthodox churches; old town and market place.
BOOZE 'N BOP
Liberal Bohemian Bodrum is popular among Turkish gays, not least in summer. Some absolute musts:
Frappe Café-Bar (Ataturk Caddesi 63/C, Bodrum) – Former Taksim/Istanbul bar, recently relocated to Bodrum. Mixed by assuredly gay-friendly.
Kavalye Bar (Cumhuriyet Caddesi 70, Bodrum) – Slap bang in the middle of the beach-side of Bodrum's main bar street, this explicitly gay venue functions almost around the clock – chilled by day, more vibrant by night!
Murphy's (Sakiresendemir Cad. Erguvan Sok. 5, Gumbet/Bodrum) – Gay nightclub, at the upper end of Gumbet's main bar street, just across from the well-know Windmill restaurant.
Cruising Areas (after midnight, as ever beware) – waterfront, 'tween castle and marina; or Belediye Park, the little square in front of the town hall.
Gay Beaches (by day) – on and near the land-linked island at the seaward foot of 'Windmill Hill'.
DON'T MISS: Club Halikarnas – the biggest club in Bodrum (5000 capacity), with the castle as backdrop across the bay, and reeking of the 1980s! Not gay as such, yet still doubtless where you can spot most gays at the same time in one place here in Bodrum!
OTHER USEFUL CONTACTS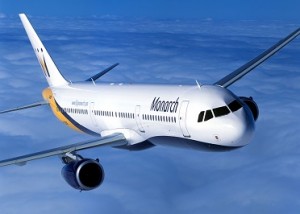 Monarch, the scheduled leisure airline, operates flights to Bodrum (Turkey) from Birmingham, Manchester, Leeds-Bradford, London Luton and London Gatwick airports with fares, including taxes, starting from £39.99 one way (£91.74 return). In addition to year-round low fares, Monarch also offers a range of products and services, both on the ground and in-flight. Everyone is allocated a seat at check-in but seats can be pre-booked from £4.99 per one-way flight, to ensure that families and groups are seated together. For those looking for added comfort, extra legroom seats are also available, offering up to 15% extra space for your legs, from only £12.99 one-way. You can do your online check-in between 28 days and 6 hours pre departure. A great range of tasty hot and cold meals can be pre-booked or purchased onboard.