The Bus – Secret teenage love in the heart of America's Bible Belt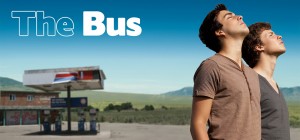 The derelict bus signposting the road to the church is the ideal secret rendezvous for teenagers Jordan and Ian as they explore their friendship and love.
But when the gas station owner, who also happens to be Jordan's divorced father, decides he's had enough of giving it house room for free they suddenly find themselves caught up in a whirlwind of small-town politics, deep seated religious prejudice and family resentment.
A clash between the large church and a tiny local business can only be explosive and lead to unexpected consequences for all.
This battle between family, feelings and faith is touching, sometimes haunting, gently humorous and swirling with suspense.
Cast: William Ross-Fawcett (Ian), Kane John Scott (Jordan), Matt Ian Kelly (Harry Deforge), Alexandra Vincent (Little Girl), Katharine Jee (Sarah) and Ian Dring –(Sloat)
What the press said in the US
'An extraordinary play…a powerful striking piece that's all the more remarkable because it's the first stage work by the playwright who effectively toes the line between drama and melodrama in a script that tackles such volatile subjects as Christianity, teen homosexuality and the flammable bonds of family…a taut, often darkly amusing script.' The Burlington Free Press
"An enormous success … a complex and timely drama about small town tensions caused by the fierce interplay of sexuality, mega-church religiosity, homophobia and pride." Vermont Times
"The Bus is theatre magic! It's beautiful in every way theater should be! …The best show I've seen in a long, long time!"
Above the Stag Theatre: Arch 17, Miles Street, London SW8 1RZ
Wed 22nd October to Sat 22nd November