Sada Vidoo – "The Actress"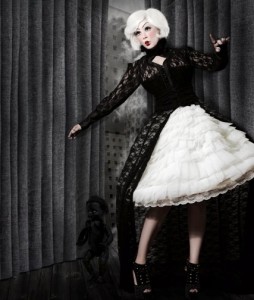 Direct from Copenhagen's gay pride – Danish singer songwriter, Sada Vidoo, is a complex artist with a restless soul who is best described as a borderline schizophrenic … where darkness always follows the light and the carefree and heavy-hearted collide. It's with this that Sada is about to shock and awe with her undeniably catchy and epic single.
"When the force of the universe pushes me to take sides… My world is constantly moving into a battle zone.. Am I too dark? Am I too light?.. Why can't I just be both? Some days I'm the dark's best friend and some day the leader of the light…" – Sada Vidoo
Sada first started writing music when she was just a schoolgirl. Isolation and bullying became a permanent part of her life and it was during this vulnerable period that Sada really discovered music as a personal refuge. In her room, writing songs, recording them, Sada could be anyone. She could be a star.
She started hanging out on the hip-hop and R&B scenes in Copenhagen, and before long her powerful voice could be found on numerous recordings.
In 2000, Sada wrote the lyrics and sang the vocals on DJ Aligator's "Lollipop". Partly thanks to Sada's all too familiar scream "I wanna suck on your lollipop!," the single became an instant club hit. Sada then went on to write for international dance sensation 'Infernal', who released Sada's 'Ten Miles' in the second edition of their album "From Paris to Berlin". 'Ten Miles' topped single charts in Turkey, Spain, Poland and Scandinavia. In Denmark, 'Ten Miles' was nominated for a Danish Club Hit of the Year Award in 2007 and Sada Vidoo earned her first platinum single!
After years of song writing and singing in different music collaborations Sada Vidoo met the popular British producer Chris Ballard and the acclaimed singer/songwriter Russ Ballard in 2012. Russ wrote KISS' "God Gave Rock and Roll to You" along with Hot Chocolate's 'So You Win Again'. This encounter sparked an incredible amount of creative energy between the three artists, which quickly spun into an album project. After a full year of recordings the result is now ready on the album 'A Story With No End'.
It's with this that Sada Vidoo releases her debut single 'The Actress' from the long awaited album. With her impressive ability to sing with two voices, Sada Vidoo is instantly recognisable and in a league of her own. By merging classic rock with electronic elements in this resounding single, the two distinct vocal expressions take the compositions to new dimensions. Finally, the music is supported by an impressive visual universe, Sada Vidoo's theatrical doll persona and her overwhelming live performances. Her personality and identity is as distinctive as her unique sound and will leave audiences captivated and wanting more!
"Welcome to my Universe! I'm Sada Vidoo!"
Video: https://www.youtube.com/watch?v=QpN8GTJzgvo Song released on 16th November