The Eurosedos Song Contest 2014 (not the Eurovision but very nearly)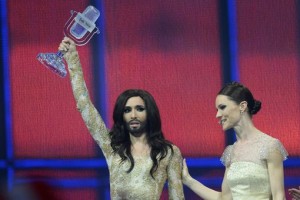 (Eurovision winner 2014 – Conchita Wurst)
Sedos, the City of London's premiere amateur theatre company, presents The Eurosedos Song Contest 2014 — Strictly NOT winners as part of its July Summer Festival.
In 2005 Deryck High and Pedro Hume-Rodriguez created, wrote and directed a fantastic show based on The Eurovision Song Contest. It was a celebration of 100 years of Sedos and 50 years of Eurovision, featuring 18 previous Eurovision winning songs.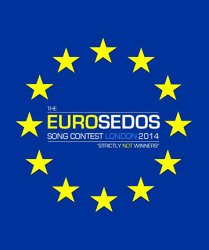 Their aim was to present these songs as near to the original performances as possible — costumes, hair, movement, dancing and languages had to be just right! The show was designed to be akin to a live TV show being broadcast all over the world, with glamorous hosts and a voice-over commentary by Sir Terry. The big twist in our show was that 75 members of the audience were arranged as 15 different countries and their votes were cast to a presenter and the giant scoreboard, in traditional Euro-fashion, to determine the winner! The Eurosedos Song Contest 2005 — The Live Final was such a huge success with cast and audiences alike that, two years later, the team wrote a follow-up: The Eurosedos Song Contest 2007 — The Battle, in which six winners from the 2005 show returned to battle it out with 12 more Eurovision winners. After featuring 30 previous Eurovision winners, it seemed the team had exhausted the idea.
Until now… Sedos' 2014 even-more spectacular Eurosedos show will showcase Eurovision songs which did NOT win, but maybe should have! Seven decades of Eurovision — classic performances for Euro fans and cheesy numbers for the non-Euro folk! Director Deryck says: "The voting countries are arranged in groups of five, so why not get a team together? One of your team will go before a camera and cast your country's votes in true Eurovision style. You'll have a ball! Who wins? You decide!"
Bridewell Theatre, Bride Lane, London EC4Y 8EQ 1st- 5th July 2014