Lesbian and gay fostering misconcept​ions

Lesbians and gay men are more likely to consider fostering, but less likely to think they would be accepted as foster carers, according to the results of a new poll published t by the Fostering Network.
The YouGov poll, released to coincide with the start of Foster Care Fortnight, found that 35 per cent of the UK lesbian and gay population would consider fostering, compared with 24 per cent of the whole population.
However, less than one-fifth (19 per cent) think they would be likely to be accepted as foster carers were they to apply within the next two years, compared with a UK average of 28 per cent.

Commenting on the findings, chief executive of the Fostering Network, Robert Tapsfield, said: "The skills needed to become a foster carer are not exclusive to any group of people. Many members of the LGBT community will have what it takes to provide a loving and supportive home for vulnerable children and young people.
"People needn't worry about coming forward to foster. It doesn't matter if you are married, in a civil partnership, how old you are, whether you have children or whether you have a job or own your own house. What matters is that you have the skills and experience to look after children separated from their own families, who have often been abused or neglected.
"Fostering is a challenging but really rewarding job. We need more people to come forward and say yes to fostering and to making a real difference to the lives of the 63,000 fostered children across the UK."
Richard Field, a single gay foster carer from London, said of his journey into fostering: "After working as a teacher, I trained as an educational psychologist. Fostering came to mind after working with some amazing foster carers and school staff who supported looked after children. But I had a large mortgage and I didn't know if there were any gay foster carers. I was anxious about how I would be perceived as a gay man.
"I took the plunge and applied to foster. I attended training, safety-proofed the house, went through the assessment and was approved. I then went part-time at work to cope with domestic commitments and I've been fostering ever since."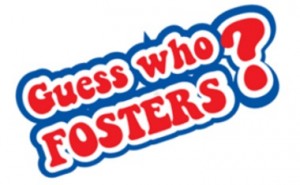 This year's theme for Foster Care Fortnight is "guess who fosters", with the aim of smashing stereotypes about who can and can't foster, and highlighting the skills and qualities actually needed to become a foster carer.
There are currently 52,500 foster families looking after 63,000 children across the UK every day. The Fostering Network estimates that a further 8,600 families are needed this year alone, particularly to look after teenagers and children with disabilities, as well as providing homes to groups of brothers and sisters.
Unless the right foster carers can be found, children too often have to live a long way from family, friends and school, are moved from home to home, and are split up from their brothers and sisters. Finding the right foster carer can lead to stability and a positive experience of childhood.