PINK LIME at Brighton Fringe 2014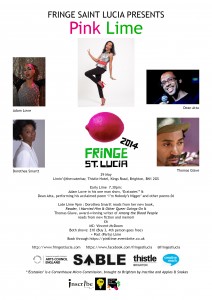 Set to blow your literary socks off this May is Pink Lime, a Fringe Saint Lucia 2014 event highlight in the form of LGBTQI performances and readings from local and international Caribbean writers. Special guest MC for the evening is the gorgeous Vincent Mc Doom all the way from Paris to Brighton.
On Thursday 29 May there will be early, late and all night literary limin' events from 7pm at Brighton's Thistle Hotel in the Waterbar featuring performance poet Dean Atta, one man show ECSTASIES by Adam 'Beyonce' Lowe followed by appearances from internationally renowned writers Thomas Glave and Dorothea Smartt delighting audiences well into the evening.
If you are looking for a lot of flavor and fizz in your Brighton Fringe experience then Pink Lime and the rest of the Fringe Saint Lucia 2014 events programme is for you.
Pink Lime
Fringe Saint Lucia 2014 at Brighton Fringe
Thursday 29 May 7pm-10pm (£6 per event, £10 both events)
Venue Information:
Liming@The Water Bar, Thistle Hotel, Kings Road
Brighton, BN1 2GS
Pink Lime Line Up
7.30pm-8.30pm
EARLY LIMIN'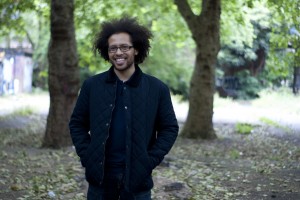 DEAN ATTA
The popular host of Come Rhyme With Me and author of the acclaimed poetry collection, 'I Am Nobody's Nigger' reads from a selection of his poetry.
'Dean Atta's poetry is as honest as truth itself. He follows no trend; he seeks no favours … Beyond black, beyond white, beyond straight, beyond gay, so I say. Love your eyes over these words of truth. You will be uplifted.' Benjamin Zephaniah
ADAM LOWE in 'ECSTASIES'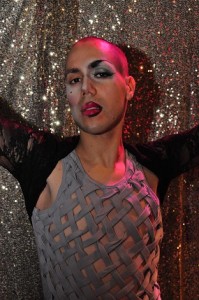 Infamous party monster Adam 'Beyonce' Lowe invites you down to the club and into the toilet cubicle. There's plenty to tell and lots to share in this queer search for truth, knowledge and, above all, ecstasy. But are you ready for the comedown?
Written and performed by Adam Lowe
Music written and performed by Nikki Franklin
Directed by Gerry Potter
Animation by Charlie Taylor
A Cornerhouse Micro-Commission. https://adam-lowe.com/
'This is a breathtaking blurring of boundaries and an exquisite explosion of expectations – set entirely in a nightclub toilet cubicle.' Vada Magazine
Time to go to the bar for a Lime Cocktail!
9pm-10pm
LATE LIMIN'


THOMAS GLAVE
Thomas Glave was born in the Bronx and grew up there and in Kingston, Jamaica. While in Jamaica, Glave worked on issues of social justice, and helped found the Jamaica Forum for Lesbians, All-Sexuals, and Gays (J-FLAG). Glave has been nominated for a slew of awards and was winner of Lambda Literary Awards in 2005 and 2008. His most recent book, Among the Bloodpeople: Politics and Flesh, was published by Akashic Books in July 2013, and was recently named as a finalist for the 2014 Lambda Literary Award.
'Glave is a gifted stylist . . . blessed with ambition, his own voice, and an impressive willingness to dissect how individuals actually think and behave.' The New York Times Book Review
DOROTHEA SMARTT
Dorothea reads a selection from her forthcoming collection, 'Reader, I Married Him and Other Queer Goings On'. The early selection is now available as a chapbook.
'Smartt's tonsorial twists and turns become all the more intriguing when you read her accomplished debut collection, 'Connecting Medium'. One of the highlights is '5 Strands of Hair', a spare sober piece that represents some profound socio-cultural observations like bullet points on a flip chart.'
Kevin Le Gendre – Independent on Sunday
Fringe Saint Lucia 2014 festival dates:
3 May – 11 May in Saint Lucia, West Indies and 16 May – 29 May in Brighton, UK
Full Programme to be announced on the website, facebook and twitter early April 2014
Brighton Fringe 2014 will run 3 May – 1 June 2014.