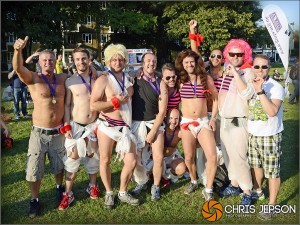 Photos: chrisjepson.com
 Cheers rang out across the grassy knoll behind the Royal Vauxhall Taverns as sixteen teams competed to take the title of Game of Thrones Gay Sports Day Champions.
When the dust settled, only one team stood triumphant, 'From Russia with Glove', who not only triumphed in the strongly contested Tug of War, helping them to the overall gold medal for their athletic achievement, but also raised over £1,200 in sponsorship. Girls Gone Vile, who collectively looked more like Madonna than Madonna does, took gold for best outfits. The event, organised by GMFA, the gay men's health charity, and the Royal Vauxhall Tavern (RVT), took place in Vauxhall Pleasure Gardens on Bank Holiday Monday.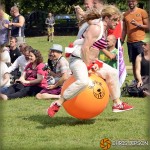 The proceedings kicked off with a procession of all contestants, led by Timberlina in a chariot. Trumpets blared, and Mark Bennett, the Mayor of Lambeth, tossed the inaugural handbag. Contestants displayed their sporting prowess in events such as the drag race, the space hopper relay and the 50m mince, with commentary from seasoned BBC Sports pro Bob Ballard and Nick Heath.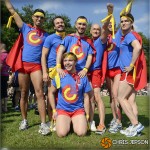 Matthew Hodson, GMFA's Chief Executive, commented:  "The sunshine, the crowds, the teams, the RVT staff and the GMFA volunteers all helped make the 2013 Gay Sports Day a huge success. We think it was our biggest crowd yet and the teams looked amazing. We had Madonna through the ages, competitors in full Games of Thrones regalia and a seasonal box of Christmas crackers. The space hoppers, the drag relay, the 50m mince are all brilliant. And this year, we even got our first marriage proposal! I'm thrilled to say he said yes, and I hope the happy couple come back year after year."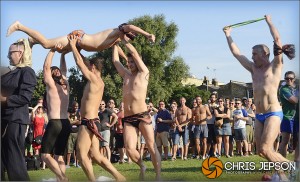 "Sports Day is probably the most fun that you can have raising funds for a good cause, and over 700 condoms packs were distributed too. With all the difficulties in the funding for HIV prevention work at the moment, the money raised from Sports Day helps to ensure that GMFA can continue to provide our HIV information website, FS magazine and develop new prevention campaigns." www.gmfa.org.uk/aboutgmfa