RESULTS OF KICK IT OUT FAN CONSULTATION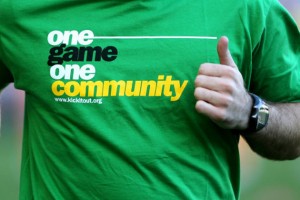 RESULTS SHOW THAT 84% OF FANS SEE HOMOPHOBIA AS AN IMPORTANT ISSUE
The Gay Football Supporters' Network (GFSN) welcomes the results of Kick It Out's 'Tackling Discrimination' survey that (amongst other points) states:
The huge majority of football fans, from all backgrounds, think that tackling racism, homophobic abuse and abuse towards disabled people are important issues in football (93% of fans say it is important to do more to tackle racism, 84% to tackle homophobia and 89% to tackle abuse towards disabled people).
The majority of fans see discrimination and abuse as unacceptable in the modern game, (92% racism), (87% Homophobia) (84% sexist) (92% abuse of disability) suggesting that it is an irresponsible minority who act in this way.
The GFSN also welcomes the news that Kick It Out will release a new reporting App in time for next season which is designed to make reporting discrimination, including homophobia, simpler and quicker
This comes hot on the heels of the GFSN's own research with Brighton & Hove Albion FC where the club received homophobic abuse by 72% of opponents and at over 57% of matches in the 12-13 season. gfsn.digitalime.com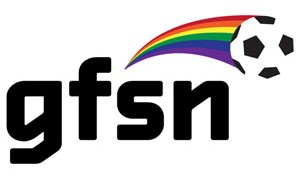 GFSN Chair, Chris Basiurski says:  "It's great to see such research from Kick It Out. Fans clearly agree that not only is discrimination wrong but that fans themselves, along with the football authorities, need to take responsibility for tackling the issue. We hope that all in the game take this research into account and that the people who are the bedrock of the game are crying out for more action against homophobia, racism, and all other forms of discrimination".
Roisin Wood, Director of Kick It Out, said: "The majority of football fans have told Kick It Out they want action to get rid of discrimination at all levels of the game. These new reporting tools will allow fans to help clubs and the relevant authorities target instances of discriminatory behaviour more consistently while maintaining healthy and vocal rivalries.
"Over the past 20 years, the campaign has stayed at the forefront of tackling discrimination with innovative campaigns and we have made real progress, but there is still plenty to do. This will go some way in helping responsible fans work with us to make further progress.
"Kick It Out will continue to work with clubs, managers, players, fans' organisations and the governing bodies to help actively promote all reporting procedures."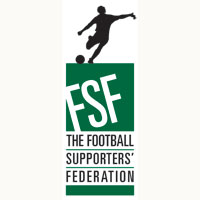 Kevin Miles, Chief Executive of the Football Supporters' Federation (FSF), commented: "The results of the fan consultation support our view that abusive and discriminatory behaviour at grounds is totally unacceptable.   It is important that the responsible majority of fans have the right help and support to report, and the confidence that something will bedone if they do.
"These incidents when the behaviour of the minority crosses over the line are rare, but we're encouraging all football fans to download the free app and read the reporting guide, so if they are ever in that situation, they are clear on what to do."