Review – Derren Brown – Infamous Tour by Gordon Hopps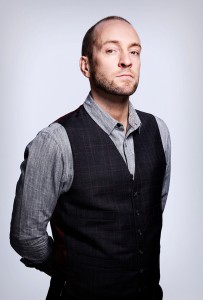 I have to own up… I am besotted with Derren Brown! When I discovered he was gay, it made me even more interested in what he does. His TV shows make me gasp with wonder, whether it is a 'simple' mind-reading 'trick' on some audience member or bringing down the Apocalypse on a member of the public totally unaware of his own involvement in what is about to develop. I am gripped either way.
Derren is now a good way through his 2013 Infamous Tour and I recently went to see him at the Alhambra Theatre in Bradford. He has changed his image; instead of the goatee and staring eyes he now looks a bit like he's about to take on the role as Jason Statham's stunt man in his next action-packed movie. Despite this sexy look, he takes centre stage, sits on a chair and describes to his enthralled audience, just why he's such a dickhead.
Then, for over two hours, he has his audience in stitches (yes he's also quite the comic, his timing is superb), while at the same time he mesmerizes them with the impossible. We, the captivated members of the paying public, know we are watching something truly special and at the same time of being completely beguiled by what is going on, we wish we knew how he did it.
On TV, Derren has gone out of his way to debunk those who would trick people into believing in the afterlife or spiritualism and their ability to contact the dead, so I suppose it is only correct that he himself comes in for similar criticism. Alas for his critics, he doesn't make any such claims but uses the audience, chosen at random, to prove his impressive, mental powers.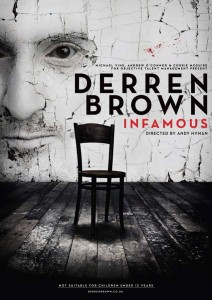 On one of his Facebook questioning sessions he was asked: Can we still be made to believe in magic?
Derren answered: I'm not sure what 'believing in magic' means – no-one wants to be seriously deceived by a charlatan. Having a theatrical framework and a sense of wonder is important, and part of that is presumably not having questions entirely answered. In other words, a medium doesn't provide 'magic' as she is providing a complete rationale for where the information is coming from; the dead. If you believe that, it's not magical at all. A good magician on the other hand keeps answers ambiguous and wonder afloat, and hopefully that is the reward of a good performance.
If you have never seen the man perform (?) you are missing a unique piece of totally absorbing theatre, and if you have seen him on TV, then the experience of his live show is truly spell-binding.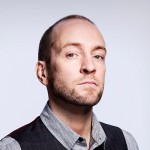 During the interval, a guy sat next to me in the audience said he loved the show and didn't want to know how Derren did it! I think he is wrong, I think everyone in the theatre wanted to know how he does what he does but the man leaves us with more questions than answers and, as with all good showmen, wanting more.