Songs in the key of Gay – Matt Fishel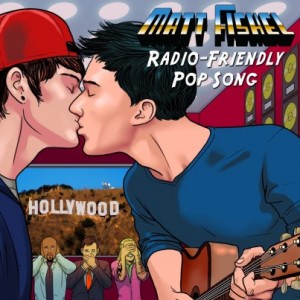 Being a gay singer is perhaps not as bold as it once was, like say, back in the late 70s when Tom Robinson sang his rallying cry to sexuality 'Glad To Be Gay'. The list of 'out' gay performers is endless but what you never find in their hit songs, or hear on the radio or see on TV, is where the gender of the object of the 'love' song is the same. Matt Fishel a singer/songwriter/producer based in London is trying to change that situation.
Over the past 3 years Matt has received growing recognition for his, pop-rock driven style of music and candid lyrical content, including support from the likes of Stephen Fry and Tom Hiddleston. This culminated in 2012 with Matt winning two RightOutTV Music and Video Awards for Football Song (Best Video So Far) and Behind Closed Doors (Song of the Year 2012).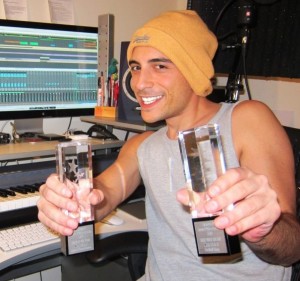 He grew up in Nottingham, where he spent his early childhood years religiously studying all the chords, lyrics and dance routines to Prince and Madonna songs. He has been involved in music in one way or another since the tender age of seven, when he recorded his first ever album armed with nothing but a Casio keyboard, a tape deck and a home-made microphone! Matt has crafted his own unique style of songwriting and production, with themes of sexuality, education, love and lust running through his work. However, his songs and lyrics deal openly with the joys, pains and experiences of growing up as a gay teenager and young man, setting him apart from other artists.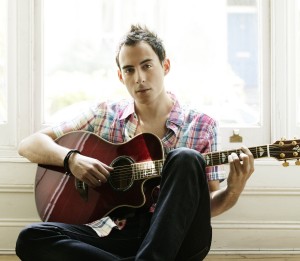 Last year, Matt was hard at work in the studio with UK producer Mark Crew, recording his debut solo album, Not Thinking Straight, due for release on 8th April. A blend of heavy guitars, big vocal harmonies and anthemic choruses, his forthcoming album contains 13 tracks that deal with themes and issues surrounding gay life, relationships and experiences.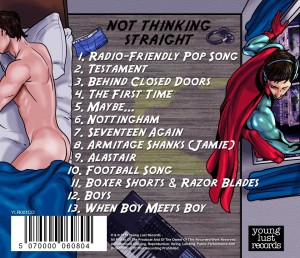 Meanwhile, his latest single 'Radio-Friendly Pop Song' is the album's opening track and comments on his (and others') experiences of the entertainment industry as an out, gay artist. The song is accompanied by an Official Lyric Video, created in collaboration with California's TyJens Media.
In 2010, in order to do things his own way, Matt set up and launched his own record label, Young Lust Records, which he now runs from his London studio. This creative freedom has enabled him to collaborate with a number of exciting artists from around the globe. These include: award-winning Argentinian film director Alexis Dos Santos (Glue, Random Strangers and Unmade Beds – nominated for the Grand Jury Prize at Sundance Film Festival, 2009); Amsterdam-based DJ and re-mixer Matt Pop (Ru Paul's Drag Race); internationallyacclaimed Berlin-based photographer, Arno; and Italian comic book illustrator Jacopo Camagni (Marvel Comics).
Most recently Matt has been collaborating with San Diego-based comic book illustrator Joe Phillips – creator of Joe Boys Comics and director/animator of the films Stonewall & Riot and The House of Morecock – to create the artwork for Not Thinking Straight. The album includes 18 original illustrations by Joe, each telling a unique story based on the songs' lyrics.
Joe Phillips has also created and directed a brand new animation video for Matt's follow up single When Boy Meets Boy, which will be released shortly after the album in April 2013.
Matt says:
"My vision has always been to tell my stories to an audience in a candid and truthful way; to be honest and open about sexuality and to hopefully inspire people who may not have heard songs written from a gay man's perspective in this particular genre of music."
'Radio-Friendly Pop Song'  www.youtube.com/watch?v=ogsbUiSY2TU
Facebook: www.facebook.com/mattfishelofficial
Twitter: www.twitter.com/mattfishel
YouTube: www.youtube.com/mattfisheltv
Website: www.mattfishel.com (currently under construction)