LGBT community urged to 'swap fags of swag'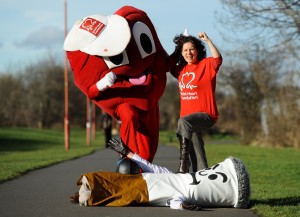 Smokers in the LGBT community are being encouraged to 'swap
fags for swag' and consider the financial benefits of quitting this
No Smoking Day, Wednesday 13th March.
Smoking rates are often higher in LGBT communities. For example, 36 per cent of gay men in the UK smoke, much higher than the national average of 20 per cent. Research also shows gay men start smoking earlier and smoke for longer than smokers in the general population (1).
But this week the British Heart Foundation(BHF) are being encouraged to buck this trend and focus on what they could afford to buy they were to quit for a day (saving £7), a week (£49), a month (£210) and a year (£2,555).
Vishnee Sauntoo, a smoking cessation adviser who works on the No Smoking Day campaign, said: "By tallying up the exact amount of money that could be saved, smokers can work towards an actual goal – be it a new pair of shoes, a house makeover or a dream holiday.
"No Smoking Day provides the perfect opportunity to join 750,000 others attempting to quit on the same day and we are urging smokers in the LGBT community to ditch their cigarettes for good by taking part in the biggest single quit day in the UK."
Barrie Dwyer, Project Manager at GMFA, part of the Health Equality and Rights Association (HERO), said: "Sadly, smoking is much more common amongst the LGBT community than the general population in the UK. And this means that the ill health and deaths that are attributable to smoking are higher in our community too."
"Around 85% of the participants on our stop smoking courses have quit smoking by the end of the seven week programme, which shows the beneficial effect of the support of others.  No Smoking Day is another example of how the support of others and the solidarity of quitting together can help you through your quit attempt."
Approximately 10 million UK adults smoke but about two thirds say they want to give up.
Each year, the No Smoking Day campaign is responsible for helping more than 750,000 people across the UK attempt to quit on the day, and for inspiring another 1.5 million to seek out information to help them quit in future.
Smokers who want to find out more can visit WeQuit.co.uk, call our free helpline on 0800 434 6677 or join us on twitter using the hashtag #NoSmokingDay.