BEN BRADSHAW MP IS PROUD2BE GAY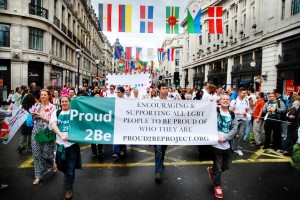 British Labour Politician Ben Bradshaw has lent his support to an ever-growing LGBT video campaign by making a video letting the world know he is proud to be gay.
In his video he says "I am proud to be the first MP in this country who was selected to stand for parliament and elected as an openly gay man".
The video campaign started when identical twin brothers Mat and Jon Price recorded a short video to let the world know they were proud to be gay. Various British public figures have followed in the brothers footsteps and recorded similar messages, including Stephen Fry, Peter Tatchell, Christine Burns MBE, Deputy Speaker Nigel Evans MP and Michael Cashman MEP.
The video campaign is part of the Proud2Be Project, a new social enterprise that has already been nominated for a Princes Trust award and a National Diversity Award.
Through the project, Mat and Jon will not only be running the video campaign but also facilitating social groups and workshops, launching Rural Pride events across the country and hosting their their own radio show which can be heard every Monday at 6pm on http://www.soundartradio.org.uk/
With a strong and positive vision driving the project the founders said:
"We both grew up with lots of negative messages about being gay. For many years these messages made us feel like we were less than and just not good enough. Our past experiences have inspired us to be part of a social and cultural change where all LGBTQ&I people are encouraged to be proud of who they are. Through the campaign our aim is to ensure that LGBTQ&I people, young and old, have equal access to positive and affirmative messages about who they are and to positive role models who are proud of their sexual orientation and gender identity / expression.
We are thrilled our video campaign continues to go from strength to strength and would like to thank all the wonderful video makers for their inspiring contributions"
The Proud2Be Project invites everyone to make a Proud2Be video!
Whether LGBT or their friend, family member, co-worker or educator- Proud2Be are looking for more stars for their video campaign.
To find out more about the project and for details on how to make your own Proud2Be video, head to http://proud2beproject.org/