When in Rome? Men in Rome!
by Adrian Gillan for Bent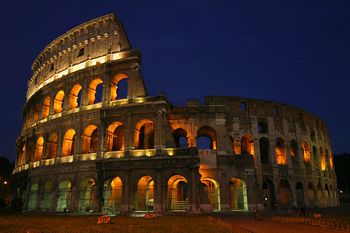 Spread across seven hills, the grandeur of Ancient Rome still bedazzles! And as for the Roman men!
TO SEE 'N DO
Take in the iconic Colosseum, where naughty Nero thumbed-down gladiators, and Christians fed lions;
the vast yet still elegant hole-in-the-roof Pantheon, built for Hadrian; and those former hubs of power
that are the Capitol and Palatine hills, plus nearby Forums and Trajan's Column.
Visit the Circus Maximus parkland of Ben Hur fame; the three-coins-wish-making Trevi Fountain; and the zig-zagging Spanish Steps. Enjoy Caravaggios at the Galleria Borghese, or more recent fare at the Galleria Nationale d'Arte Moderna – both in the sprawling Villa Borghese park just north of centre.
Savour the massive Vittoriano monument, celebrating a modern, united Italy; the Baths of Caracalla where three tenors once sang, as football played; plus ornate Piazza Navona. Cross a gushing Tiber to enjoy the Castel Sant' Angelo and the vast (boo-hiss) Vatican – notably its mighty St Peter's Basilica and Square, glorious Sistine Chapel, Raphael Rooms and associated museums and galleries.

TO BOOZE, DANCE 'N CRUISE
No clubber's paradise exactly, in the shadow of The Pope, but ample to keep even a disco bunny busy!
Rome's oldest gay pub, Hangar (Via in Selci, 69; T: +39 06 488 1397; www.hangaronline.it), still entices via its dark rooms, occasional strippers and two bars – just west of the mail rail station. Pretty sleazy.
There's a nice little cluster of more sociable bars just over the road from the Colosseum, not least trendy yet friendly Coming Out (Via S Giovanni in Laterano, 8; T: +39 06 700 9871; www.comingout.it), plus My Bar (Via S Giovanni in Laterano, 12; T: +39 06 700 4425), a few doors down.
You'll find another nice little queer crop in the vibrant, Bohemian Trastevere district, just west across the Tiber, most notably gorgeous candle-lit Garbo (Vicolo Santa Margherita, 1/A; T: +39 06 5812766), plus nearby gay-friendly Bacab Books Bar (Via della Sacala, 67; T: +39 06 5817247).
For clubbing, when not summertime, head for the Testaccio district, just south of centre, especially least for regular club nights at little Frutta e Verdura (Via Monte Testaccio, 94), plus larger Alibi (Via Monte Testaccio, 40/44) or Gorgeous I Am (@ Alpheus, Via del Commercio, 36). In summer, most clubbing relocates to the temporary Gay Village (www.gayvillage.it) area further south, in the E.U.R. district.
To steam off excess energy, pop into the EMC Sauna (Via Aureliana, 40; T: +39 06 482 3650; www.europamulticlub.com), just north of the main rail station; or to Mediterraneo (Via P. Villari, 3; T: +39 06 7720 5934; www.saunamediterraneo.it) just south.
What is pushed down at the middle of the day, springs up – all too oft behind a bush – in the dead of
night! Gents still 'take airs' at the foot of Monte Caprino, opposite the ruinous Teatro Marcello, despite the main bulk of the hill now shutting after dark. As ever, take care.
TO STAY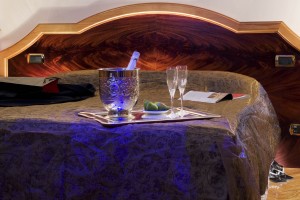 Intimate and exclusive, contemporary and classic, the Relais Conte di Cavour (via Farini, 16; T +39 06 4821638; www.relaiscontedicavour.com) offers chic town-house-style accommodation, with highly attentive and friendly service, in the very heart of Rome – mere minutes from the main Termini rail station, and all main sights. The core architectural features of this historical landmark building – such as hand-painted vaulted ceilings, and large shuttered windows – have been preserved; all set-off tastefully against a contemporary chic décor, so the whole ensemble sings. Of especial note is the cool lighting throughout, including under-lit starry-night hall floors, and amazing illuminated showers you just might not want to leave. Great breakfasts too. A cut above!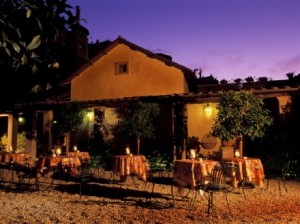 Alternatively – located in the charmingly characterful area of Trastevere, a short stroll over the Tiber from the tourist-thronging old centre – the Hotel Santa Maria (Vicolo del Piede 2; T: +39 06 5894626; www.hotelsantamaria.info) is a delightful single-floor affair with café-bar, its rooms all set around a pleasant courtyard, with portico and orange-tree-brimming garden. The hotel is a tranquil oasis amidst an intricate labyrinth of colourful, bright, narrow streets – both romantic and relaxing. From the hotel, you can easily walk to the historical and archaeological treasures of the city, both up to the Vatican and across the Tiber to the Forums. There is an excellent range of quiet, comfortable rooms and suites with all mod-cons, including air-con and free wifi. Welcoming staff; great service; top-notch breakfast buffet!
OTHER USEFUL CONTACTS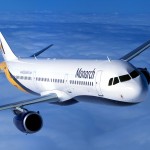 Monarch, the scheduled leisure airline, operates flights to Rome from London Luton airport with fares, including taxes, starting from £64.99 one way (£126.99 return). In addition to year-round low fares, Monarch also offers a bespoke "build your own class of travel" range of products and services, both on the ground and in-flight. All customers are allocated a seat at check-in but for those wishing to select where in the cabin they sit, to ensure that families and groups are seated together, seats can be pre-booked from £5.99 per one-way flight. For customers looking for added comfort, extra legroom seats arealso available, offering up to six inches of extra space, from only £9.99 one-way. Customers can also take advantage of online check-in, which is available between 18 days and 4½ hours prior to departure. A great range of tasty hot and cold meals can be pre-booked or purchased onboard. For further info, or to book Monarch flights, holidays or hotels, visit www.monarch.co.uk.
The great-value 'Roma Pass' grants free-entry and discounts on a range of attractions and transport: www.romapass.it
For general info on Rome, call the Tourist Call Centre on 0039 06 06 08, or visit www.turismoroma.it
For general info on Italy: www.italia.it