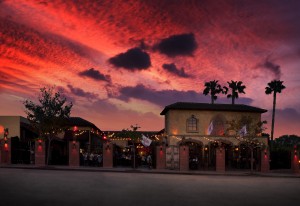 By Joey Amato
In my first visit to the West Coast in many years, I decided to venture out to the land of dreams, Los Angeles, California and more specifically, West Hollywood.  In a region known for celebrities, rolling hills and mega mansions, West Hollywood is a wondrous enclave, with its own identity and a drastically different vibe than its surrounding neighbors.
The most difficult part of your journey will be getting from Los Angeles International Airport to West Hollywood…the traffic in Los Angeles is legendary.  But once you arrive, all of your worries seem to fade away.  Check in at the newly renovated Le Montrose Suites, situated just blocks from Santa Monica Boulevard and minutes away from some of the most popular gay venues in the country.
The magnificent boutique hotel offers a full-service restaurant, beautifully appointed suites complete with full kitchen, living space, balcony, flat screen televisions and luxury linens.  Le Montrose also features a fitness center and rooftop pool overlooking the Los Angeles skyline, perfect for sun bathing or enjoying a late-night swim.
A car isn't really necessary in West Hollywood, unless you would like to take a trip to Malibu, Santa Monica or nearby Pasadena.  Everything you need during your stay in WeHo is at your fingertips.  Stop in at one of many LGBT-owned retail shops lining Santa Monica Blvd. and check out the latest fashion trends from local designers.
For a delightful dining experience amongst the West Hollywood "It" crowd, head to Eveleigh, located on the famous Sunset Strip.  Here, diners can feast on a variety of options.  To start, try some of the wonderful "small plates," which include: Crisp Spring Fennel with black olive aioli, Grilled Monteray Squid with garlic, lemon and olive oil or Roasted Bone Marrow with celery cress, radish and smoked sea salt.
With something for every taste, Eveleigh is definitely one of the premier dining establishments in the area.  The restaurant also offers a wonderful wine selection, perfect to accompany any entrée.  I highly recommend the Grilled Boulder Valley hanger steak with crisp potatoes and caramelized onions or the Roasted Half Jidori Chicken with picholine olives, almonds, preserved lemon, and golden raisins.
After dinner, head back to Santa Monica Blvd. to one of over a dozen gay bars/clubs in the city.  Of course, the most popular of them is The Abbey.  Voted "Best Gay Bar in the World," by Logo, The Abbey is located just steps away from Le Montrose Suites.  Owner David Cooley founded the venue 20 years ago as a coffee shop and since then, it has grown to the premier LGBT nightlife venue in West Hollywood with approximately 16,000 square feet of space.
Drinks at The Abbey are a little pricier than other establishments, but well worth the money, especially their famous Raspberry Mojito, a drink recommended to me by many of their patrons.  The bar also offers a wide selection of martini's, old-fashioned lemonades and Caipirinhas.  Dance the night away to the pulsating beats of some of the world's greatest DJs who regularly visit The Abbey.
After a night of partying, it's time to explore some of the cultural attractions West Hollywood has to offer.  Begin at the MOCA Pacific Design Center.  Founded in 1979, MOCA is the only museum in the region devoted exclusively to contemporary art. It is committed to the collection, presentation, and interpretation of work produced since 1940 in all media, and to preserving that work for future generations.  The museum is about a twenty-minute walk from the hotel, but well worth the visit.
Another highlight is the MAK Center for Art & Architecture.  The MAK Center seeks out and supports projects which break down the boundaries between art and architecture. In addition to an ambitious schedule of events, the MAK Center hosts a bi-annual residency program for eight innovative artists and architects from outside the U.S. The famous Schindler House, at the site of the MAK Center, is considered to be the first house ever built in the Modern style.
If all that sightseeing made you hungry, walk over to Tender Greens, a wonderful restaurant offering a selection of fresh soups, salads and grilled items.  Try the Happy Vegan salad, a lovely blend of farro wheat, cranberries, cucumbers, hummus, beats and Quinoa.  Another stand out is the Tuna Niciose salad, made with potatoes, quail egg, tomatoes and olives in a sherry vinaigrette.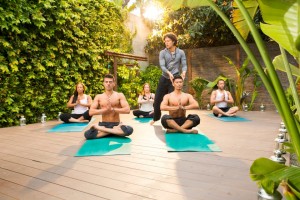 Just a few blocks away is Shahr Salon & Wellness, a lovely new wellness center offering a variety of salon and spa treatments including relaxing massages and luxurious facials.  The property also features a private outdoor space for yoga and meditation.  During my visit to Shahr, I was lucky enough to participate in a private yoga session taught by a very knowledgeable instructor who focused mainly on stretching and breath control.  This was followed up by a wonderful 60-minute massage.  I would highly recommend making the time to visit Shahr during your stay.
A journey to West Hollywood would not be complete without visiting The Sunset Strip, a premier destination for the music, entertainment, and fashion. Some of the greatest bands in rock music got their start playing venues including The Viper Room, The Roxy and Whiskey a Go Go.  "The Strip" is one of the most likely places in West Hollywood to bump into a celebrity.
Those looking  to spend more time with the "boys" or "girls" should head back to Santa Monica Boulevard to any one of the exciting bars which include Rage, Revolver, Fiesta Cantina, Micky's and Here Lounge in addition to others. The drinks in WeHo are plentiful and the eye candy is as well.
For more information, visit www.visitwesthollywood.com
OUT Destinations is part of OUTreach Public Relations, a Nashville-based company specializing in LGBT marketing.  Founded by Joey Amato, OUTreach PR has quickly become one of the most sought after companies for firms looking to target the ever growing and affluent LGBT consumer.  For more information, please visit www.outreachpublicrelations.com