Book Review – All Right Now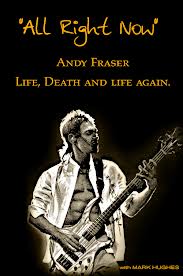 'All Right Now – Life, Death & Life Again'
By Andy Fraser with Mark Hughes
Perhaps only our older readers will know who Free were – a group of young musicians, who, in their own way, personified the musical highs of the 70s. Their major breakthrough hit, All Right Now became an anthem of the time and propelled this bunch of lads into superstardom.
Free were made up of singer Paul Rodgers, guitar, Paul Kossoff, drummer Simon Kirke and the youngest of them all, little Andy Fraser, who stood at the back and provided the most serious intense rhythms you can get from a bass guitar.
At the height of their fame, the band imploded and everyone went his own way, some achieving greater success than the others. Little Andy, who had proved to be the driving force for the band, didn't quite find the contentment he was looking for with other musicians he teamed up with and appeared to slowly drift into obscurity. However, as we find in this autobiography, the young lad was dealing with other problems other than fame, success and an abundance of drugs, not least of all was his final realisation he was gay.
For the first time ever, Andy reveals the actual dynamics that caused the eventual split of Free, how his relationship with Paul Rodgers deteriorated and exactly why. After 20-years of being close to reclusive, Andy finally becomes fantastically open and gives Free fans the full details of what exactly went wrong.
'All Right Now…' traverses the life and near-death experiences of one of the music industry's greatest rock icons, who has penned hits for the likes of Paul Young, Robert Palmer, Joe Cocker, Chaka Khan and Rod Stewart. A rollercoaster tale, which catapulted Andy Fraser sky-high as a global celebrity, then tragically flung him to the brink of death as he battled AIDS – this autobiography reveals the turmoil, pain and fear that's fraught his life as he's struggled with coming to terms with being gay.
For more information on visit: www.mctrax.com  OR  www.andyfraser.com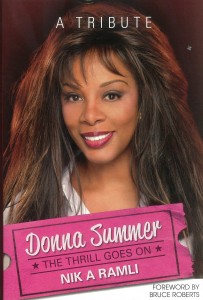 Donna Summer – The Thrill Goes On
By Nik A. Ramli
Superstar Donna Summer continues to be an icon after her sad death and an inspiration worldwide. This account of her career will delight fans and prove that the one-time Queen of Disco had evolved into an all-round artist who used her incredible talents to get to the top.  The book contains interviews with famous names including Gloria Gaynor, Paul Gambaccini and Pete Waterman. It's a celebration of her recording and artistic achievements as she reached the peak of her profession and gives an insight into why, even after all the controversy, she is still a huge icon for the gay community.
Book Guild Publishing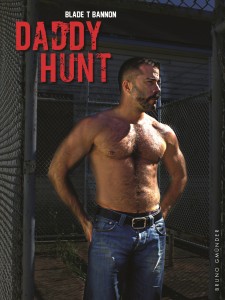 DADDY HUNT
By Blade T Bannon
With the by-line – Daddy's Gonna Treat You Good! you know what you are in for and it takes just one look at the pictures to know why: These bulky fellows and their rough sex appeal are simply irresistible. It's hard to think of something more enticing than going into the lion's den where daddy's gonna teach you a lesson you won't forget.
brunogmuender.com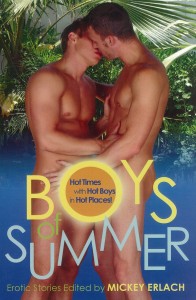 BOYS OF SUMMER
Edited by Mickey Erlach
Remember those hot summers between terms at school. All your hunky mates finding time to work and play as they worked up a sweat, stripped to the waist in the shimmering heat. From holiday romance to passionate erotic encounters, this playful anthology will thrill you with hot, lusty tales of sexual adventure.
Starbooks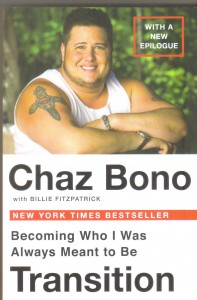 TRANSITION – Becoming Who I Was Always Meant To Be
By Chaz Bono & Billie Fitzpatrick
The world first met Chaz Bono as Sonny and Cher's cherubic blonde daughter but Chaz feels no connection with that little girl. Instead, he remembers growing up in the public eye, coming out as lesbian, feeling unfulfilled and struggling with gender confusion. Finally, after drug addiction and failed relationships, Chaz began to take hormones to begin his transition from female to male.
Plume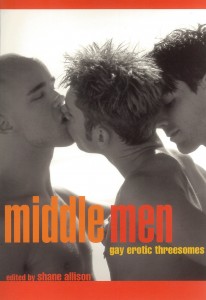 MIDDLE MEN – Gay erotic threesomes
Edited by Shane Allison
In a world where there are nearly no taboos, one of the few fantasies left unrealised for most is that of group sex. This handy compendium is bursting with steamy tales of threesomes, foursomes and moresomes – enough sizzling desire and erotic adventure to satiate any reader's appetite!
Cleis Press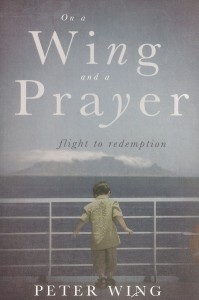 ON A WING AND A PRAYER
By Peter Wing
The author has kept a diary since the age of eleven, so this is a story of a man's life, which was often dysfunctional, poignant but always interesting. From his life at an English boarding school, adolescence in Apartheid South Africa, life in 60s Swinging London and his dealings with the rich and famous as cabin crew, it is an interesting journey.
Matador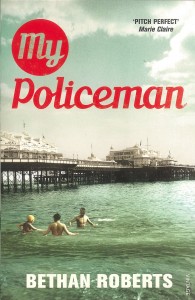 MY POLICEMAN
By Bethan Roberts
It is in 1950's Brighton that Marion first catches sight of Tom. He teaches her to swim in the shadow of the pier and she is smitten – determined her love will be enough for them both. A few years later Tom meets Patrick who opens his eyes to a glamorous, sophisticated new world. The two lovers must share him, until one of them breaks…
Vintage – Random House