Johan's Blog – Twinky, twinky… little star.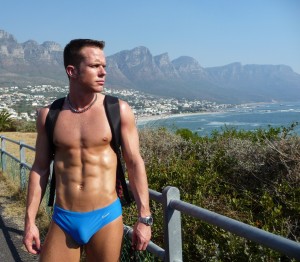 Our STAXUS-ON-TOUR shows are always lots of fun. What's more, they're always different – depending on the city, the club, the programme, even the local law!
I remember the first shows I did, probably around 5 years ago now. I was young and innocent in those days – and in many respects so too were the parties. They took place at the Wunderbar in Hamburg, near Reeperbahn, one of the most famous gay bars in the city. It was a small venue, but it was always crowded with young, twinky-type, party people, and I hosted some kind of gay quiz/bingo party there once a month. The salary was ridiculously poor, but I always had a great time and over time, everyone who worked there became a kind of substitute family for me. Why, I even still have "lifetime guest-list" status there!
Needless to say, over the years the shows have become increasingly sexy and raunchy – not to mention much more professional. Indeed, sometimes it's quite funny – and not a little embarrassing – to see five year old photos from those Wunderbar bingo nights. Shyly standing there in front of everyone and hardly able to speak because I couldn't think of the right words in German, but I did have a grin from ear to ear for the simple reason that I was so proud to have been allowed to host the evening. To be honest, the guests weren't at all interested in the quiz. All they wanted was to be able to touch my body and to get a free shot and a kiss from me for every right answer. Well, maybe they just wanted the free drink!
Good times, good times. Today, in contrast, there aren't any clubs that would book us for an innocent bingo evening. Now it's all about eroticism, sex and porn.
We have shows in almost every European country, regularly visiting cities like London, Brussels, Vienna, Hamburg, Athens and Barcelona to name but a few. But my favourite ones are when we head off to holiday destinations, such as Gran Canaria, which we visited recently, and Ibiza and Mykonos, which we're booked to visit later this summer. On these occasions we always try to stay a few days longer so that we can combine our work with a few lazy days on the beach and in the sun. Strange as it sounds, however, the shows in these holiday destinations are always harder and more excessive than the ones we put on in the big cities.
London is by far the most aggressive place we go to – the British guys are really unbelievable and seem to like everything just that little bit harder and rougher. The Scandinavians are always up for fun – first they are always shy but then they drink a lot, and the more they drink the hornier they get until it ends up in a gangbang. But the wildest venues are Paris, Brussels and (most of all!) Berlin. The German capital is such a sexy and dirty city. Why, in some (public!) gay clubs no-one seems to even bat an eyelid when some guys are being fisted right in the middle of the dance-floor! Excuse the pun, but no-one gives a fuck! Instead, guys quite literally just step over the action or dance around it. And of course here in Berlin we have a show in the famous Apollo Splash Club Sauna every Sunday. No, we don't do fisting there – we leave that to the hairier, more manly professionals – but we do perform a hardcore show in the cages. Expect the full programme, if you get my drift. That said, the atmosphere at these shows is always fantastic, whether we're doing a hardcore or softcore show, or even if we're just performing some go-go dancing and serving drinks. For us models it's great to chat with people and to get to know the fans; but for the fans themselves it's something else completely.  Just to be able to see a porn star in real life and to touch him is an unforgettable experience – not to mention seeing a hardcore fuck actually taking place just a few centimeters away from them!
The STAXUS-ON-TOUR guys always change from week to week, so it was quite a surprise when a fan came up to me during a signing session to promote our new movie "25 Cocks, 1 Blond Twink" to say that he had seen me fucking George Basten in the Berlin Sauna the day before. To be honest I was really flattered, especially when he told me how fabulously horny the show had been. But the truth of the matter is that I haven't fucked George Basten for several years. Nevertheless, this fan was adamant that it was George and myself. Why, he even described how we began by blowing each other off 69-style, and then gave colourful details as to how we fucked in a whole series of different positions before I shot my load all over his face. And all this whilst the whole shop listened intently to every word being said! Thank God my boyfriend wasn't with me at the time – I'd have had some explaining to do, that's for sure. But believe me folks, I didn't have sex with George, as this man insisted – either in a show or in private or in a darkroom in a Berlin sauna! Which is a pity really because he's a damn good fuck!
But still, this guy gave me quite a lot of good input, not to mention some great ideas for our next productions. He sure had some great horny fantasies – indeed, perhaps we should hire him as a writer for our team?!
Bookings on: www.StaxusOnTour.com             All DVDs available on: www.Homoactive.com
Hugs  Johan