Are men turning into girlie-boys?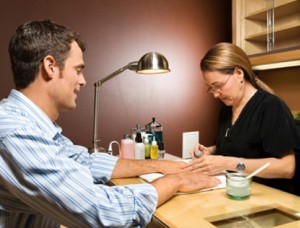 According to a recent survey conducted by Salon Services, the UK's largest professional Hair and beauty supplier, there has been a 66% increase in the number of guys looking for treatment.
Findings from 'Beautiful Britain' – a survey of over 1,500 hair and beauty professionals – found that this is increasingly driven by the soaring popularity of male beauty treatments
Most popular male treatments and percentage increase plus average cost
1 Haircut 60% £18.60
2 Massage 31% £32.80
3 Hair removal 30% £20.90
4 Hair colour 28% £37.80
5 Skin treatment 19% £33.60
6 Nail treatment 18% £23.90
7 Tanning 17% £19.70
8 Shaving 9% £14.10
Regional trends
Beautiful Scotland
Scotland would appear to have the best-groomed men in the UK with nearly three quarters (74%) of hairdressers and beauticians who offer male treatments in the region seeing an increase in male clientele – the largest increase in the UK. This compares with the North East where only half of salons see increased male custom – the smallest in the survey.
'Henson' effect felt in Wales
No doubt inspired by local rugby playing celeb Gavin Henson, tanning treatments are particularly popular in Wales, with 35% of male customers requesting it – the highest demand in the UK.
Welshmen are also the 'smoothest' operators in the UK as nearly half (47%) of male customers in the country opt for hair removal treatments. Hair removal in Wales is therefore twice as popular than in the South West where only 23% are asking for the treatment.
Stressed Londoners opt for massages and "Man-icures"
It appears busy London men overcome the stresses and strains of the capital by treating themselves to invigorating beauty treatments with over a third of male customers (38%) opting for massages and nearly a third (31%) for skin treatments – the biggest demand for these treatments anywhere in the UK.
Male grooming in London comes at its price though, with the total bill for the three most popular treatments (haircut, massage and skin treatment) coming in at £111.00 – £25.00 more expensive than the average UK bill for the same treatments.
Products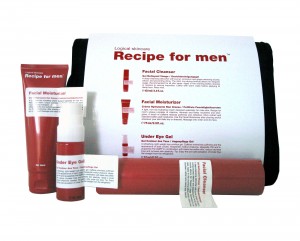 Just the right Recipe
Recipe for men is pure hydration and energy for your skin. The foundations are based on the best quality natural ingredients available in the world and the actives are selected to fit a man's needs. They don't tell you that the product will "reduce wrinkles by 70%" or give your career a giant boost. However, they do say that Recipe for Men will make your skin look and feel much fresher and smoother…. No matter how tough a life you live.
Prices start at £15 through to £65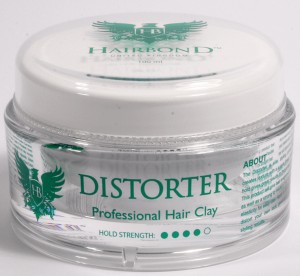 Hair today
The Hairbond Distorter Professional Hair Clay is an elite, matte styling product that creates texture with a supple finish. Flexible hold gives great results to thick straight hair. This product will give hair a strong to medium hold allowing elasticity for easy use.
£12.50