It's a close shave with the world's manliest shaving brand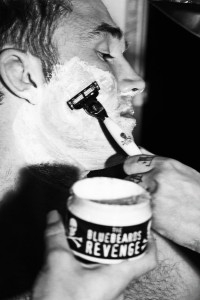 Sick and tired of that never-ending shaving rash? Fed up to the back teeth with in-growing hairs? Bored to death with razor burn? There is nothing quite as frustrating as cleaning up with a close shave, only to suffer from common skin irritations that cause your face and neck misery and make shaving a chore rather than the pleasure it should be.
But guys there is finally a solution to this very painful problem – it's called The Bluebeards Revenge, a premium range of quality male grooming and shaving products designed to combat tough stubble and tackle the most excruciating shaving problems.
The flagship product in the range is a unique, paraban free shaving cream that contains a miracle ingredient called Decelerine, which is designed to actually delay and reduce hair growth. Decelerine reduces the frequency of shaving and depilation and at the same time provides a recovering effect on the skin. By decreasing the regularity of shaving, this means there is less contact with the skin, which in turn helps to reduce razor burn and razor rash, especially on sensitive skin.
The ideal shave can be boiled down to three simple steps: Prepare. Shave. Protect.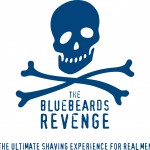 To Prepare: Take a shower, then wash with a mild face wash or scrub; preferably one for men or for your skin type. Next apply The Bluebeards Revenge Pre Shave Oil. The pre-shave oil helps your razor do all the hard work, providing a smoother shaving experience and doing it's own bit to eliminate nicks and bumps. To use, massage a splash of oil into your beard until it is barely visible.
To Shave: Lather up using a good quality shaving cream preferably with a shaving brush. It will take you no more than a few extra seconds as part of your routine but will reward you with a fantastic shave. A brush helps create a great lather and lifts your hairs so they are properly coated, which in turn allows your blade to cut as smooth and as tight to the skin as you like. A good quality razor with a sharp blade, whether a safety razor or cartridge razor, is ideal to shave with. Shave first in the direction of hair growth, then across, then against.
To Protect: Rinse your face with cool water to close the pores. Then pat your face dry with a towel. Finally apply a Post Shave Balm, preferably one that is specially formulated with Witch Hazel and Aloe Vera to nourish the skin after shaving.
Endorsed by a gay pin up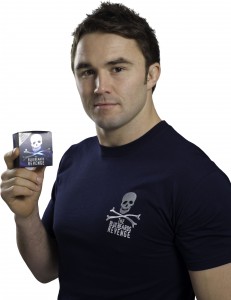 The official face of The Bluebeards Revenge brand is none other than gay pin up boy and pro rugby star Sacha Harding. The 28-year-old stripped off for the front cover of Gay Times' annual 'Naked Issue' magazine to support Sir Elton John's AIDS charity campaign last year. "AIDS is such a devastating disease for so many people around the world and I was honoured to get this opportunity to try and do my part to help raise awareness of the disease and ultimately save lives," Sacha said.
Raising the awareness of male cancer
The Bluebeards Revenge is also doing its bit to raise the awareness of the three uniquely male cancers – prostate, penile and testicular cancer. All Bluebeards packaging boasts essential, potentially lifesaving advice on male cancers bought to you in conjunction with their Charity Partner for 2012 – Orchid (www.orchid-cancer.org.uk).
Those intimate shaving areas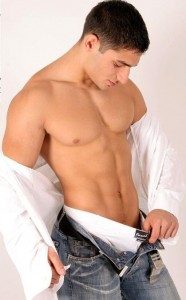 When it comes to male grooming, and dealing with man hair, it seems that no place is free from a bit of topiary. Women have been keeping their lady bits hair free for years, so why shouldn't men keep downstairs a bit more tidy? First of all, it reduces the cloudy bush that can minimize the appearance of your favourite appendage, and secondly it increases the sensuality and fluidity of make-out sessions with your man.
The decision is a no-brainer, really. However, choosing the proper approach to removing pubic hair isn't always so simple. Several options exist like trimming, waxing, electrolysis, laser or using a men's depilatory. But one of the most effective and popular ways of removing pubic hair is by using a razor. For most guys, this grooming technique is familiar and an ideal solution. When shaving away pubic hair, not only do you get a super-clean, hygienic look that is appealing to touch, but you also get to do it discretely in the shower, so there's relatively little cleanup involved.
The drawbacks to the shaving approach are generally considered to be that it can leave skin irritations such as razor burns, rashes and ingrown hairs, and that it requires continual upkeep and can be itchy as it grows back. However, by using The Bluebeards Revenge range you can ensure an irritation free "downstairs" shave and because the products contain Decelerine, you will actually have to shave less over time.
Don't believe us? We're giving all our readers the opportunity to test out the range for themselves as we've got five Ultimate Bluebeards Revenge Shaving Kits to giveaway, each consisting of a tub of luxury shaving cream, pre shave oil, post shave balm, travel-sized shaving brush and silver technology anti-perspirant deodorant.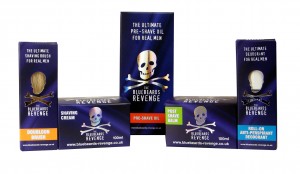 To be in with a chance of winning one of these fantastic kits, just answer this simple question:
What sport does poster boy Sacha Harding play?
send entries to    comp@bent.com
The Bluebeards Revenge range is available to buy online from the Bent online: https://www.bent.com/