Film Review and Buzz – Chris Amos
The Muppets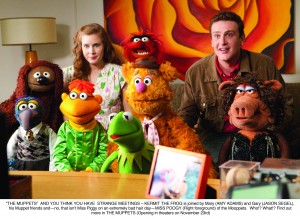 Out 10 Feb
Disney bought the right to The Muppets and this is a perfect relaunch. The world's biggest Muppet fan, and his friends Gary (Jason Segel) and Mary (Amy Adams) discover the nefarious plan of oilman Tex Richman (Chris Cooper) to raze the Muppet Theater and drill for the oil recently discovered beneath the Muppets' former stomping grounds. To stage The Greatest Muppet Telethon Ever and raise the $10 million needed to save the theater, Walter, Mary and Gary help Kermit reunite the Muppets, who have all gone their separate ways: Fozzie now performs with a Reno casino tribute band called the Moopets, Miss Piggy is a plus-size fashion editor at Vogue Paris, Animal is in a Santa Barbara clinic for anger management, and Gonzo is a high-powered plumbing magnate.
The Woman In Black
is ben affleck dating jennifer lopez
Out 10 Feb
Based on the classic ghost story, The Woman In Black tells the tale of Arthur Kipps (Daniel Radcliffe), a lawyer who is forced to leave his young son and travel to a remote village to attend to the affairs of the recently deceased owner of Eel Marsh House. Working alone in the old mansion, Kipps begins to uncover the town's tragic and tortured secrets and his fears escalate when he discovers that local children have been dying under mysterious circumstances. When those closest to him become threatened by the vengeful woman in black, Kipps must find a way to break the cycle of terror.
This Means War
Out 14 Feb
The two sexiest actors working in movies right now Chris Pine and Tom Hardy are the world's deadliest CIA operatives who are inseparable partners and best friends until they fall for the same woman (Reese Witherspoon). Having once helped bring down entire enemy nations, they are now employing their incomparable skills and an endless array of high-tech gadgetry against their greatest nemesis ever – each other. Directed by McG who gave us the Charlies Angels movies.
Ghost Rider: Spirit Of Vengeance
https://mag.bent.com/30s-dating/

Out 17 Feb
Nicolas Cage returns as Johnny Blaze in the successor to the worldwide hit Ghost Rider. Johnny – still struggling with his curse as the devil's bounty hunter – is hiding out in a remote part of Eastern Europe when he is recruited by a secret sect of the church to save a young boy from the devil. At first, Johnny is reluctant to embrace the power of the Ghost Rider, but it is the only way to protect the boy – and possibly rid himself of his curse forever.
Jack and Jill
https://mag.bent.com/single-mums-dating-site/

Out 3 Feb
Yet another classic but low-brow comedy from the Adam Sandler film factory. Jack and Jill focuses on Jack Sadelstein (Adam Sandler), a successful advertising executive in Los Angeles with a beautiful wife and kids, who dreads one event each year: the Thanksgiving visit of his identical twin sister Jill (also Adam Sandler). Jill's neediness and passive-aggressiveness is maddening to Jack, turning his normally tranquil life upside down. Katie Holmes plays Erin, Jack's wife.
Red Dog
https://mag.bent.com/today-is-date/

Out 24 Feb
Based on the legendary true story of the Red Dog who united a disparate local community while roaming the Australian outback in search of his long lost master. When a truck driver Thomas arrives in Dampier, Western Australia, late one night he enters the town pub and sees the silhouettes of a group of men, one of whom is holding a gun. Believing he is witnessing a murder he rushes into the next room, where he sees that the men are trying to put down an apparently sick dog. Unable to bring themselves to carry out the euthanasia, the men, with Thomas, retreat to the bar. Publican Jack Collins tells him the dog's name is Red Dog and narrates his story. This is an classic Aussie movie and tearjerker.
****************
Ten Things You Never Knew About Sam Worthington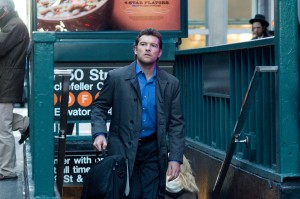 1. Had no intention of becoming an actor and went to NIDA (Australia's most famous acting school) to support a friend but got through.
2. Was a finalist to play James Bond in Casino Royale (2006) before Daniel Craig was cast.
3. Was a bricklayer before becoming an actor.
4. Sam has blurred vision but he does not wear glasses.
5. Aside from acting, Sam is a keen surfer.
6. Was actually born in Godalming Surrey, England. Parents moved to Perth, Western Australia when Sam was very young.
7. Was cast in Avatar after Jake Gyllenhaal and Matt Damon turned down the role.
8. Made his Hollywood acting debut in JAG: Boomerang: Part 1 which was the show's 100th episode.
9. Sam was the recipient of the Australians in the Film 2009 Breakthrough Award (The Golden Boomerang) presented to him by James Cameron.
10. Sam is lined up to work on Avatar 2
This month Sam hits cinemas in Man On A Ledge out on 3rd Feb.
Film Buzz
Joseph Kosinski's follow-up to Tron: Legacy stars Tom Cruise who plays a soldier whose job is to repair the drones that patrol and destroy the savage aliens on a post-apocalyptic Earth where civilization lives above the clouds.
Joel Edgerton (Warrior) will take on the lead role in Kathryn Bigelow's follow-up film to The Hurt Locker with Kill Bin Laden giving the Aussie actor two major releases within one week of one another in December as he also stars in Baz Luhrmann's The Great Gatsby, which opens on Christmas Day.
Benedict Cumberbatch (TV's Sherlock Holmes) recently seen in War Horse and Tinker Tailor Soldier Spy has landed the lead villain role in Star Trek 2.
The Girl With The Dragon Tattoo sequels are moving forward. Rooney Mara and Daniel Craig are already signed to return as Lisbeth Salander and Mikael Blomkvist respectively, but it is not yet known as to whether David Fincher will return to direct.
Kristen Wiig (Bridesmaids) looks set to join Ben Stiller in the remake of The Secret Life Of Walter Mitty. Kristen will play a co-worker who pops up in Walter Mitty's fantasy life in the remake of the 1947 comedy, which Ben will both star in and direct.