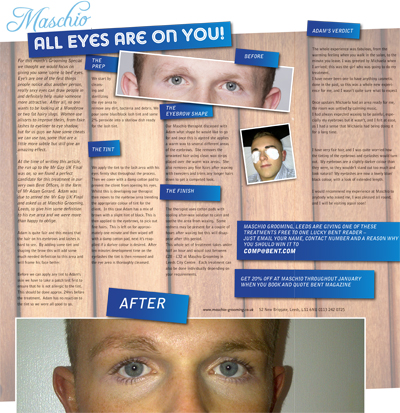 All Eyes Are On You!
For this month's Grooming Special we thought we would focus on giving you some 'come to bed' eyes. Eye's are one of the first things people notice abut another person, really sexy eyes can draw people in and definitely help make someone more attractive. After all, no one wants to be looking at a Monobrow or two fat hairy slugs. Women use allsorts to improve theirs, from fake lashes to eyeliner to eye shadow, but for us guys we have some cheats we can use too, some that are a little more subtle but still give an amazing effect.
At the time of writing this article, the run up to the Mr Gay UK Final was on, so we found a perfect candidate for this treatment in our very own Bent Offices, in the form of Mr Adam Gerard. Adam was due to attend the Mr Gay UK Final and asked us at Maschio Grooming, Leeds, to give him some definition to his eye area and we were more than happy to oblige.
Adam is quite fair and this means that the hair on his eyebrows and lashes is hard to see. By adding some tint and shaping the brow this will add some much needed definition to this area and will frame his face better.
Before we can apply any tint to Adam's skin we have to take a patch test first to ensure that he is not allergic to the tint. This should be done approx. 24hrs before the treatment. Adam has no reaction to the tint so we were all good to go.
THE PREP
We start by cleansing and sterilizing the eye area to remove any dirt, bacteria and debris. We pour some blue/black lash tint and some 2% peroxide into a shallow dish ready for the lash tint.
THE TINT
We apply the tint to the lash area with his eyes firmly shut throughout the process. Then we cover with a damp cotton pad to prevent the client from opening his eyes. Whilst this is developing our therapist then moves to the eyebrow area blending the appropriate colour of tint for the client. In this case Adam has a mix of brown with a slight hint of black. This is then applied to the eyebrows, to pick out fine hairs. This is left on for approximately one minute and then wiped off with a damp cotton pad, next it's reapplied if a darker colour is desired. After ten minutes development time on the eyelashes the tint is then removed and the eye area is thoroughly cleansed.
THE EYEBROW SHAPE
Our Maschio therapist discussed with Adam what shape he would like to go for and once this is agreed she applies a warm wax to several different areas of the eyebrows. She removes the unwanted hair using clean wax strips placed over the warm wax areas. She also removes any fine hairs after waxing with tweezers and trims any longer hairs down to get a competed look.
THE FINISH
The therapist uses cotton pads with cooling after-wax solution to calm and soothe the area from waxing. Some redness may be present for a couple of hours after waxing but this will disappear after this period.
This whole set of treatment takes under half an hour and would cost between £28 – £32 at Maschio Grooming in Leeds City Centre. Each treatment can also be done individually depending on your requirements. To book: 0113 242 0725.
ADAM'S VERDICT
The whole experience was fabulous, from the warming feeling when you walk in the salon, to the minute you leave. I was greeted by Michaela when I arrived; this was the girl who was going to do my treatment.
I have never been one to have anything cosmetic done in the past, so this was a whole new experience for me, and I wasn't quite sure what to expect
Once upstairs Michaela had an area ready for me, the room was settled by calming music.
I had always expected waxing to be painful, especially my eyebrows but it wasn't, and I felt at ease, as I had a sense that Michaela had being doing it for a long time.
I have very fair hair, and I was quite worried how the tinting of the eyebrows and eyelashes would turn out. My eyebrows are a slightly darker colour than they were, so they wouldn't stand out too much and look natural! My eyelashes are now a lovely blue/black colour, with a look of extended length.
I would recommend my experience at Maschio to anybody who asked me, I was pleased all round, and I will be visiting again soon!
Maschio Grooming, Leeds are giving one of these treatments FREE to one lucky Bent Reader – just email your name, contact number and a reason why you should win it to comp@bent.com
Get 20% off at Maschio Throughout January when you book and quote Bent Magazine
www.maschio-grooming.co.uk
52 New Briggate, Leeds, LS1 6NU 0113 242 0725