American Connection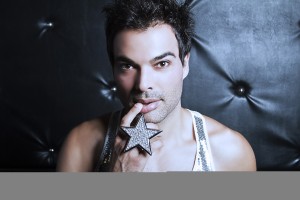 by Randy Myer
Moses is not afraid to turn conventional on its ear.  In his new album, Predictions, he sets his sights on pushing buttons and changing minds. The first single off the record, "I'm Your Man", features pop sensation XELLE. Driven by a dirty synth sound, a heavy beat, and Moses' unique voice and harmonies, it's destined to become a dance floor staple.
The album features ten songs that whisk listeners on a journey through the inner world of Moses and his multiple layers of personality.  It draws inspiration from 80's bands like Depeche Mode, The Cure, and Erasure, however its message is completely Moses' own with much of it stemming from his arrival in New York.  "It was tough starting over in a new city with no money and no friends," recounts Moses. "But what's great about New York is it's a city of artists facing similar struggles and so we were able to build our own community."
Moses' big break came when he met record producer Zach Adam who helped him create the ambitious album. Says Adam of Moses, "When I first met him, I was impressed by his talent and charisma. His artistry is unconventional yet his look is commercial."
Together, they are hoping that rare combination – along with Moses' pop oriented sounds, driving beat and strong message – will propel the out artist into mainstream.  And why not?  Moses is one superstud who deserves to be a superstar.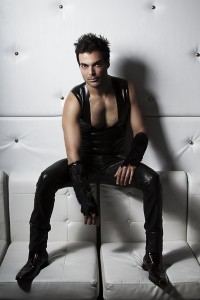 The idea of freedom seems to be an underlying theme in much of your music.
I grew up in Israel in a strict family with stringent expectations. My dream was to be an entertainer but when I told my parents, they literally laughed at me and said "No, really.  What do you want to do for a living?"  They hoped I would become a lawyer or a doctor.
How did you break free from their demands?
It wasn't until I moved to NYC that I was finally able to break the chains and become my own person, creatively and sexually.  The wheels of freedom were set in motion as soon as I took the first step to explore, discover and define myself as a man on my own terms.
That's what your new song, "I'm Your Man", is all about.
Yes, it's about playing with standard conceptions of what a real man should be.
Is it correct to assume the music video was inspired by George Michael's, "Freedom"?
The video is being compared to the 'Freedom' video, which is humbling and flattering, but in all honesty, it was not something we ever discussed or planned to do.  It just sort of happened that way.  George Michael is an amazing artist with an equally amazing career, so I'm fine with people making that comparison.
But is George Michael a role model for gay men?
I can't really say.  He is definitely a role model for me as a performer.
The ladies in your video aren't ladies at all… some are actually the gender-bending girl group XElle.
We have a wide variety of personalities from the NYC nightlife world represented in the video.  Our aim was to present something less to do with gender bending, more to do with bending the definition of gender.
Does "I'm Your Man" follow the same path as Gaga's "Born This Way" and Ke$ha's "We R Who We R"?
I can definitely see the parallels with other outspoken artists, but my sound is a bit darker than that of the pop princesses. Message wise, I think we share some common elements.
Is the world ready to accept Moses as their man?
Pop culture is always on the look out for something new.  I believe the world is ready to accept me as their man. I'm definitely ready to be their man.
What is your main message to fans?
Be true to thyself.  It is the only way to achieve ultimate happiness and success.
Contact Moses on Facebook.