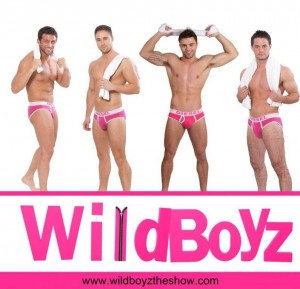 For the first time ever hunks Alex Reid (reality TV star) Marcus Patrick (Hollyoaks) Danny Young (Coronation Street/ Dancing on Ice) and Dale Howard (Big Brother),  will be getting hearts racing and making ladies and gentlemen of a certain persuasion blush at theatres up and down the land in their hilarious new show – Wildboyz!
Our hunky Boyz are en-route from a glitzy celebrity bash to a mates stag do in Bali, when their flight unexpectedly hits an ash cloud and gets diverted, leaving them stranded in a cheap Spanish hotel. When the International male strip group the "Wildboyz" booked to appear for a hen party at the hotel don't turn up, the spotlight turns to our British Beef to see if they can rise to the occasion and show us they really are big in the Balearics!
The show hits the road in next year  for an extensive UK tour from through April and May.