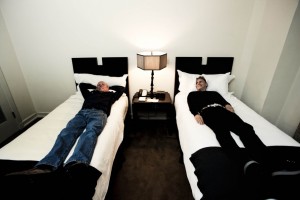 After 30 years working on their respective ongoing music projects, Vince Clarke (Erasure / Yazoo / Depeche Mode) and Martin L. Gore (Depeche Mode) come together for the first time since 1981 as VCMG to release a brand new album preceded by a series of EPs.
VCMG is the fruit of initially tentative discussion and subsequent enthused collaboration where Vince and Martin, both influential as pioneers in electronic music, get to exercise their lifelong love of the genre as the techno inspired VCMG.
As Vince explains: "I've been getting into and listening to a lot of minimal dance music and I got really intrigued by all the sounds… I realised I needed a collaborator… so it occurred to me to talk to Martin."
Says Gore: "Out of the blue I got an e-mail from Vince just saying, 'I'm interested in making a techno album. Are you interested in collaborating?' This was maybe a year ago. He said, 'No pressure, no deadlines,' so I said, 'OK'."
The writing and recording of the album was done in a typically unique way with the pair working alone in their respective studios, communicating only via email, exchanging files until the album was ready.  It was in May 2011 that the pair met for the first time to discuss the project when they both performed at Short Circuit presents Mute festival in London.
The album (title to be announced soon) was produced by Vince Clarke and Martin L. Gore and mixed by the influential Californian electronic artist Überzone / Q and will be released in the spring of 2012.
The first release is an EP entitled Spock. EP1/SPOCK will be available initially as a global exclusive on Beatport  out now, and then on all DSPs from 12th December with the 12" release following on 19th December.
EP1 / SPOCK TRACKLIST
Spock – Album version
Spock – Edit Select Remix
Spock – Regis Remix
Spock – DVS1 Voyage Home Remix
Spock – XOQ Remix