The perfect choice for all of the family this Christmas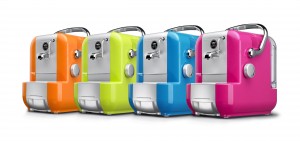 Coffee Break
The Lavazza A Modo Mio coffee system combines capsule technology, the finest Lavazza coffee and an integrated steam arm into a state-of-the-art, innovative system allowing you to enjoy an authentic Italian espresso experience 'a modo mio' – 'my way'. Super stylish and available in a choice of models, a Lavazza A Modo Mio coffee system is the perfect gift for a coffee lover.
£125.     www.lavazzamodomio.co.uk
Slim 'n' fast
The ultra-slim 14" ASUS U46 notebook has stylishly unique features which make it highly portable and convenient for work and play whilst on the move. With USB 3.0 technology (10x faster transfers than USB 2.0), the U46 bundles the exclusive ASUS USB Charger+, which charges devices in far less time than is typically required. Added to the already superb usage of up to 10 hours battery life, the U46 offers a highly desirable package for travellers, media buffs and business people alike.
£699 Available in durable yet subtle brushed champagne-coloured metals from Comet
How's this for camp
This fantastic stool looks like it's just been popped from a giant bottle of champagne! This solid cork stool is printed with the text "Grand Vin De Champagne". The perfect gift for civil partnership, celebrations, Christmas and those who are just way over the top!
Product Size: 50cm (H) x 34cm (W) Eco-friendly – made of the finest Portuguese quality cork.
£95 www.hunkydoryhome.co.uk
The Chocoholics Pizza – Strawberry & Champagne
Crafted from the highest quality chocolate, the delicious Chocoholics Pizza combines two of food's greatest pleasures for the ultimate indulgence gift. The Strawberry & Champagne pizza is available in 7 or 10 inch and is presented in an authentic pizza delivery box! Pizza Base: Belgian milk chocolate with freeze dried strawberries and popping candy. Pizza Toppings: Red rainbow drops, white honeycomb balls, milk chocolate curls, edible glitter and strawberry chocolate.
Suitable for a vegetarian diet. This pizza has a shelf life of 6 months.
£16.99 www.GettingPersonal.co.uk
Everyone's favourite Angry Birds are back!
But this time they're taking a break from reigning down slingshot destruction to bring music to your ears as a new range of speakers.
The ever-raging Red Bird, explosive Black Bird and even the egg-thievin' enemy, Helmet Pig, are all available as officially licensed speaker and dock stations. But watch out, for while they might fill the room with soothing sounds, they're bigger and angrier than ever before!
Black Bird compatible with: All generations of iPod, iPhone and iPad
Red Bird compatible with: Any music player, smart phone and tablet
Helmet Pig compatible with: All generations of iPod and iPhone
From £49.99 – £69.99                                   www.gear4.com