Dazzlin' Dallas – not your verage Western cowtown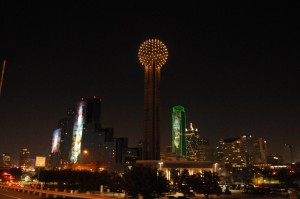 Live Large. Think Big. That's the Dallas marketing slogan and one on which the metropolis delivers in true Texan style. But as JD van Zyl found, there is also a very different side to Dallas – one which boasts a buzzing gay scene, a rich cultural experience and unrivalled Texas hospitality.
The more time I spend in the city and its surrounding areas the less I understand why it is so far down most gay travellers' must-visit-destinations lists. That is if it features at all. It certainly isn't because people don't know about Dallas – love it or hate, the 80s TV series definitely put the city on the map. The only logical conclusion is that what people know about it, or at least think they do, is as out-dated as the shoulder pads Sue Ellen sported 20-odd years ago. Because scratch a little beyond the conservative Red State veneer and you'll discover a modern city that bristles with a rich multi-cultural offering, a thriving gay scene and a larger than life personality.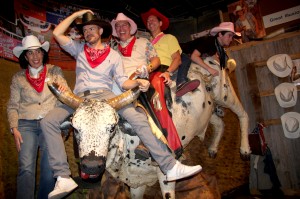 The gayest area in Dallas is without a doubt the Oak Lawn neighbourhood along Cedar Springs Rd and Oak Lawn Ave, where an impressive array of clubs, bars, restaurants and shops successfully cater for the LGBT community. Arguably at the top of the heap is the Roundup Saloon which has accurately been called "the best galdanged gay bar in the U.S. of A" by one Stateside gay publication. Regardless of which night you pick to pop in, there is always something on the go – from karaoke or line dancing lessons with Juanita to pumping clubby tunes on Saturday nights.
Right now we are standing at the Tequila Shack inside the Roundup Saloon, a country-western club with six bars, a huge dancefloor and a crackling atmosphere. As you'd expect lovers of country music are well catered for here, but more than a fair bit of Gaga and high energy dance beats ensure it never gets boring for the rest of us. And then we haven't even touched on the barmen – most of them topless, ripped and donning tight fitting jeans and cowboy hats…
Just across the road from Roundup is JR's Bar and Grill a big and friendly bar with a brilliant patio from where you can admire the talent sashaying past on the pavement below. Prefer somewhere you can party until the small hours of the morning? Then simply walk on over to adjoining Station 4, which guarantees a packed dancefloor on weekend nights, while the Rose Room Theatre upstairs hosts drag shows from Thursday to Sunday every week. Sue Ellen's, which also forms part of the same complex, on the other hand is for lesbian revellers what JR's is for the boys with its aptly named Lipstick Lounge and Vixin Lounge especially popular with the girls. For an extensive list of hotpots in Dallas and some handy information on the city's night-time offerings visit the Dallas Tavern Guild website (www.dallastavernguild.org).
Surprisingly steeped in culture
Texas is renowned for its bigger-and-better-than-anywhere-else approach, as is evident from the Dallas slogan "Live Large. Think Big." Nowhere is this grand scale more clearly visible than in the Dallas Arts District – the largest of its kind in the country, sprawled over 68 acres and 19 adjoining blocks. Once a neglected corner of downtown Dallas, the scale of the now leafy Arts District is simply staggering. Punctuated by some of the city's most significant cultural landmarks, the area is a symphony of cutting-edge architecture which ranges from Foster + Partners' gargantuan AT&T Performing Arts Centre with its lobby clad in striking red glass to the light-filled Symphony Centre penned by I.M. Pei.
Slightly less light and bright, but no less fascinating by any stretch, is The Sixth Floor Museum which recounts Dallas' most notorious day in gripping (and often goose bump-inducing) detail. Vivid photographs, films and artefacts celebrate the life of John F. Kennedy and chronicles the events which ultimately led to his assassination on 22 November 1963. It was from a window of the museum, which formerly housed the Texas School Book Depository, that shots were fired at the presidential motorcade after it rounded the grassy knoll of Dealey Plaza. Was Lee Harvey Oswald a lone gunman, or was he just a pawn in a much greater conspiracy? A visit to this must-see museum might just help you make up your mind.
The Great Gay West
No visit to Texas would, however, be complete without a nod to its wild west past. This is something best taken care of in neighbouring "Cowtown" Fort Worth, the self-styled City of Cowboys and Culture. The city's entire tourist-based Stockyards district is devoted to swaggering cowboys and their Texas Longhorn herds, with the daily cattle drive down Main Street ranked as the undisputed highlight. For an undistilled Western experience, time your Ft. Worth visit to fall on a Friday or Saturday and get yourself on over to the Cowtown Coliseum to witness strapping cowboys tame their beasts in a live rodeo spectacle. If all that heterosexual testosterone is too much to bear then the World Gay Rodeo Finals.
Travel Toolbox
Where to stay: Chic, sophisticated and centrally located, the Hotel Palomar is a great option and offers an extensive fitness centre and pool area (which goes down a treat with those nursing a nasty hangover). For something a little more charming and quaint consider the Daisy Polk Inn, walking distance from the rainbow flag-flying establishments of Oak Lawn.
How to get there: American Airlines flies to Dallas (its largest and primary hub) direct from London, and via Chicago from Manchester and Dublin. The airline's Rainbow Team, headed by George Carrancho, was the first airline sales division and website dedicated to the LGBT community and to this day the airline remains extremely active within the community. Visit www.aa.com/rainbow for more information on AA offers tailored specially to LGBT travellers.
JD van Zyl is a freelance motoring journalist with a keen passion for travelling. For more information about him or his work visit www.jdvanzyl.com.