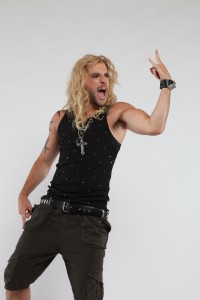 At the back end of 2005 everyone thought the good-looking singer who had just won the second series of the X- Factor had a very bright future ahead of him. Certainly, to begin with, all was going well and Number One albums and singles followed in rapid succession and established Shayne Ward as one of the UK's most promising newcomers.
Alas, the vagaries of the pop business and those who now appear to control it, means that quite a number of would-be superstars are lost to the 'next-big-thing' and their careers go into terminal decline. Thankfully, our Shayne is well aware of his talent and the fickleness of the pop industry so, rather than living on past success and griping about how cruel the world is, he has found a slightly new direction to pursue. Joining the cast in the UK production of Rock of Ages in London's West End, he plays the part of Rock Star Stacee Jaxx, alongside funny man Justin Lee Collins.
Working with Justin Lee Collins must be a hoot… what's the funniest story from the rehearsals?
There are too many funny moments to mention. Come down to the Shaftesbury Theatre for the show and you'll see just how funny he is. He's hilarious.
Rock of Ages – the musical is a celebration of Los Angeles rock culture, with a great story to boot. Set in 1987, a small town girl meets a big city rocker in LA's most famous rock club and they fall in love to some of the greatest songs of the decade – all classic tracks, which will have the audience rockin' for more but who is Shayne's all-time favourite rock band?
I've always loved Foreigner and Bon Jovi but also love a song called 'Love Bites' by Def Leppard.
What is your favourite song from Rock of Ages?
I really enjoy the group numbers we do. 'Don't Stop Believing and 'Here I Go Again'… two fist-pumping, rock-horn waving anthems. LOVE IT.
Tom Cruise is going to play your character Stacee Jaxx in the movie version of Rock of Ages, have you got any tips for him on how to play the role?
Well as far as I'm aware he is playing a good guy in the film, whereas, I'm playing the bad boy. So I'll keep my tips to myself (lol). Tom is an amazing actor and will definitely play a wicked Stacee Jaxx. I'm looking forward to seeing the film.
Now you have a taste for rock, would you someday like to release a rock-based album?
Well, I'm not going to turn overnight into a full-on rockstar! (lol) but I would like to bring a taste of it to my new material. I never thought I'd see myself performing rock but it's going down a storm. So I'm looking forward to hitting the studio.
Changing the subject and the age old question of age (after all it is called Rock of Ages) Amy Winehouse sadly passed away at 27; you turn 27 this month… any thoughts on this?
It was sad to hear that Amy died. She had an incredible vocal ability that stood well above others. Yes, I'm 27 soon ever closer to the 30 mark. Age is a scary thing for me.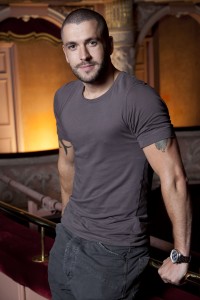 What's it like being a sex symbol?
Well, I don't know about being a sex symbol but I can say I'm getting a lot of attention from the older female fans who come and see the show. It's like a jungle at the stage door. The other guys in the cast fear to go out (lol).
If Bent readers come and see the show are they going to be able to get your autograph at the stage door afterwards?
Of course. I'll be signing autographs every night. So come down and enjoy a wild night of Rock.