Planning a Civil Partnership ceremony.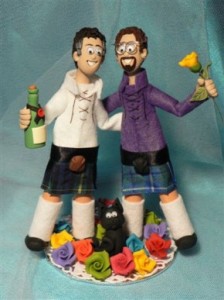 By G Alexander
I have been to several of these ceremonies and never quite get why a couple would spend so much money on one day. Yes, yes, I know it is a very special day, love is in the air, hearts are filled with joy and expectations are high but, as with straight couples on their wedding day, why waste so much money on this one event when you are planning on spending the rest of your life together?
However, I know my 'Bah! Humbug!' approach to finances and general level-headedness in most things doesn't really register on this special occasion. So, with the help of various web-sites, knowing couples and the bank manager, let's have a look at the way costs can add up as we begin to plan and then hold the event.
Of course, the location of your ceremony should be a special place for both you and your partner; however, consider choosing a central location for all of your guests. Also, make sure the venue of choice is gay-friendly. In the UK you should have no problem at your local registry office but wherever you choose it needs to be licensed for such an event. Some couples also choose to have their special day at a gay pride where there may be someone on hand to perform group commitment ceremonies. These are not necessarily legal ceremonies, just public affirmations of the couple's feelings for one and other. If you are religious you might be able to find a church that will offer a full service for a Civil Partnership and a bit of a time spent on line (no not for that) should turn up a sympathetic vicar.
Some couples choose to have small intimate ceremonies, while others have large events. Invite the number of guests that make you and your partner comfortable. Remember that the cost of the ceremony can rise steeply depending on how many guests you invite.
Choose invitations to your taste. If money is a concern, try a little creativity and create your own special cards or go on line again (stop it or you'll go blind) as there seems to be more and more companies now offering a same-sex service.
Decide if you'd like the reception at a private home, a public hall or not at all. If you are considering a public venue, call as far in advance as possible and stick to that date because changes can be very costly. Some places offer full packages (ceremony venue, reception, caterer, music and photographer) check it out but don't expect much change from your recent big lottery win.
Organise a photographer who isn't going to be obtrusive but knows and gives you just what you want.
If you plan a post reception party, book a DJ who will keep the festivities going for all your guests not just the Trance fans who came for the 'cake'.
Costs mount when you start adding limo service, hiring formal wear, kilts or tuxedos or if you are theming the event, i.e. Hollywood Stars. Try thinking simple and casual.
If you have designed the rings and are having them specially made… make sure that they are ready before the 'special day'.
Multi-layered cakes in pink (just a thought) are a nice idea but again, you may need to organise that well in advance to make sure you get exactly what you want on the day.
Flowers always seem more expensive if it's for a ceremony so I suggest you get that window box maturing about the time of your nuptials to keep costs down.
A honeymoon is a must but remember, you've already forked out an arm and a leg to keep everyone you've invited happy, so your newly betrothed is going to expect that expense to be topped… so a B&B in Bridlington is probably not going to be appropriate.
So, the bottom line is this. If you are strapped for cash (or just don't like parting with a great deal of money) plan a budget ceremony. Take into account the number of guests, the venue, entertainment, photography, rings, clothing, license, etc. If you've found that pot-o-gold at the end of the rainbow and money is no problem, then go and make it the best damn day of you and your significant other's life. There are tons of organisations out there that will be only willing to help make it a day to remember