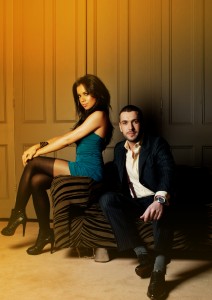 Hot sounds and smouldering looks combine as stunning Brazilian-Russian New Yorker J.Pearl teams up with one of the UK's premiere vocal talents Shayne Ward on Must Be A Reason Why… Perfect for those hot summer nights, the track is a blistering pop-fuelled dance feast based around the hook from Wamdue Project's international hit King Of My Castle and is tipped to set the charts alight.
Pop-focused imprint SIMPLY DELICIOUS – sister label to dance legend Strictly Rhythm – was bang on the money when it signed J. Pearl. Discovered singing karaoke at 3am in a Lower East Side bar and given a record deal within a week, Must Be A Reason Why… is J. Pearl's second release, following on from the US radio success of her debut, It's Getting Physical.
Produced by Lucas Secon (Pussycat Dolls, Kylie Minogue, Cee-Lo Green, Jordan Sparks and Britney Spears) Must Be A Reason Why… marks a brand new and exciting direction for UK pop star Shayne Ward. When Shayne heard the track he immediately contacted Strictly Rhythm. Although well-known for his ballad-driven pop (his last single charted at No.8 and latest album sold over 100,000 copies), Ward has always been a fan of dance labels such as Strictly and is excited about his new musical path. Jean loved the idea and asked him to feature on the record.
"I loved recording with J. Pearl and working with Lucas Secon and Strictly," said Ward. "It's thrilling to be taking such a diverse direction in my career." The love is very much mutual; J. Pearl is equally keyed up about working with Ward. "Shayne is a real charmer," she said. "Working with him was an amazing experience."
The track is scheduled for release on 8th August. Mixes come courtesy of Afrojack, Guy Katsav, Funkystepz, Rivaz and Costi.