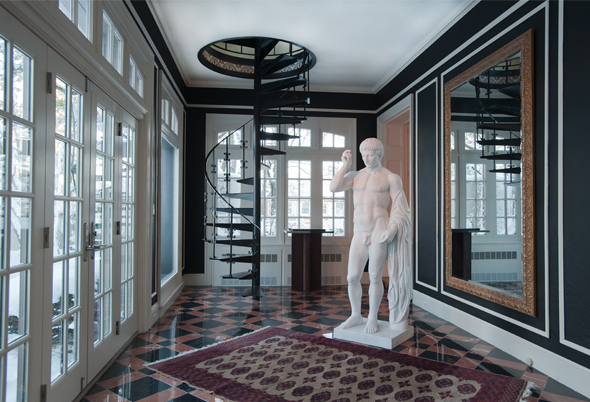 by Sebastian Reynolds
What began ten years ago in Boston as a telephone dating service called The Tool Line, is now America's leading web site for men looking to meet other men. Manhunt has more than four million profiles worldwide, with 40,000 new members joining each week.
As chairman of Manhunt, co-founder Jonathan Crutchley is the man behind the blue and orange curtain. We sat down with him at his fabulous estate to discuss how he and his business partner Larry Basile first came up with the idea for an online gay dating site; and how, in 10 years, it has changed the way gay men meet other gay men.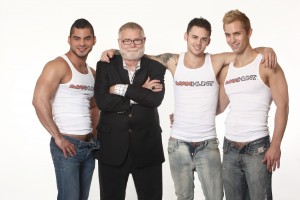 How did you become the ultimate gay matchmaker?
The truth is that I have always been a shy and introverted person, especially when I came out as a gay man, which didn't happen until I was thirty. Back then, gay bars and discos were the places to go to meet gay men. If you were a good dancer with a gym body and perfect hair, you made friends. I was the guy watching all the others from a dark corner of the room.
How did you hook up?
It wasn't until the introduction of telephone chat lines, like the ones founded by my business partner Larry Basile in 1987, that I was able to meet more guys and make friends. On the telephone lines you were just a voice – the rest was unseen, and, until you met someone in person, they were just a fantasy. Fantasy is powerful, and it helped me emerge from my shell. Later, when I partnered with Larry Basile in the telephone chat lines and, after that, the Internet personals business, we perfected the use of fantasy to help men meet each other.
Are people surprised to meet the man behind the Manhunt curtain?
Yes, the real me is not what people imagine. For twenty five years I sold real estate and wore sport jackets from Brooks Brothers. You wouldn't find me marching in a pride parade with my shirt off. I'd be watching the parade from the sidelines.
How did Manhunt become such a leading hook up site for gay men?
Larry and I knew that Manhunt's customers are more than just those who live in gay neighborhoods in big cities and who follow the latest trends and fashions. Our market is much larger than that. It includes bears, leather guys, even married and bi-guys – whom we guess could be as many as thirty percent of Manhunt users. We always knew that gay men were everywhere, and with Manhunt, guys from Nashville, Tenn., to North Dakota can find each other. There is much more to gay life than Chelsea in New York City or the Castro or West Hollywood. We developed a site that was easy for the average guy to use.
How has gay dating changed in ten years?
Guys have always been looking for the same things. The web makes it much easier to find exactly what you want.
Do you pay attention to the competition?
We'd be crazy not to.
Manhunt was slow to the mobile game. Why did it take so long for Manhunt to launch its mobile app?
We took our time in development because we decided it best to stick by our old formula of quality as #1. We've learned through the years that exceptional quality and service will bring subscribers back and bring new ones onboard.
What is Manhunt doing to keep up with mobile trends?
It's not easy. Technology changes at internet speed. But anyone who wants to engage in commerce today must adapt to the latest medium or get left behind. We employ about 28 geeks in our tech department. It's their job to keep our current system running on the internet and mobile phone and to develop new ways for guys to meet each other.
Meanwhile, you get to relax in your home that has been called the gay Playboy mansion.
It's a gay man's fantasy, or at least this gay man's fantasy. Someone else may have a different dream.
Do you have a grotto?
There's a temple behind the spa and pool. It's reminiscent of a Roman bath with the statues and the fountains.
Do you host naughty parties?
I'll let you use your imagination.
The home appears to be a shrine to masculinity.
Some people say it's a bit too hyper masculine but I've reached the stage in life where I can have the house I want and the life I want without having to worry what people think.
What is your favorite room in the house?
I would say the oak-paneled library. In the winter, I love to curl up with a book by the fireplace.
Did you commission the mural in the entry?
The mural was painted on the wall thirty years ago by a previous owner. It shows scenes of Italy, particularly Venice, and Roman ruins. It is in keeping with the style of the house as a Mediterranean villa.
How many people does it take to run the house?
Mike is my resident manager. He supervises the housekeeper, gardeners, landscapers, and maintenance people. Then, one week every month, we go out to Palm Springs, California, to my other house. Mike runs that home, too.
Is this where you hope to retire?
Who says I'll retire? But, if I do, it will be to an apartment in New York City.
Visit Manhunt.net.