Holy Latex and Acrobats… It's Batman Live!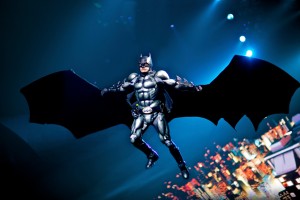 Imagine a huge concert venue where for two hours you are thrown into a world of explosions, special effects and most importantly, men in tight rubber and latex. Add the tantalising fact of getting up close and personal with one of the most famous superhero's and you might just be able to conjure the image of Batman Live, which is now swooping into the major cities of the UK over the next few months. We sent Batman fan Simon Savidge to the opening night to see what he thought.
I think every man, of any age and any sexuality, has got a bit of a thing for Batman. Mine started with the comics, the begging to see the films and then was reignited with the slight love (and possible fetish) for a muscley man in a mask, cape and the tightest body armour imaginable. So it was therefore a bit of a dream come true to be sitting within feet of the man and all of the action for Batman Live. It also meant I had rather high expectations.
Well, after a lot of story setting, and lots and lots of acrobatics in the first half, I admit I was initially concerned. Batman had only flown through the audience three times, so, what was going on? This seemed more Cirque du Gotham than a live action movie right in front of my eyes. The stage and staging were impressive, the outfits (Penguin, Catwoman, the Riddler… in fact every Batman baddie you could think of graces the stage) were spot on. But where was Batman himself, that's what I'd come for.
Well the joke[r] was on me it seems as the second half was nonstop action as the Joker takes over Arkham Asylum and we are drawn into the Batcave, follow the incredible floating high-speed Batmobile and watch Batman and Robin save the day. There cars, fireworks, guns, explosions and even a hot air balloon and more 'kapows' than in one of the old 1970's TV shows, I was gripped. It's like a mixture of the comic and latest films all thrown in front of you and is quite unlike anything I have seen before. I'd hope it would work and it did. And yes, I got an eyeful of more than just the fireworks.
I also became something of a hero as I'd taken my 12 year old cousin who thought it was 'the coolest night ever'. You don't have to have a child around to enjoy it but, if you want to keep that 'bat-fetish' a secret you might want a helpful disguise.
Batman Live will be touring the UK from now until November.
For more information, videos and tickets visit www.batmanlive.com