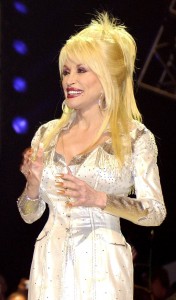 By Alex Wiggan
Boobs. Big boobs. That's what instantly pops into your mind when someone mentions the name Dolly Parton; isn't it? Now Big boobs may not be the body parts that usually crop up on your radar, unless of course you're into guys with a little on top, but it's certainly something that most of us boys think about when we hear the name Dolly Parton. Of course just focusing on her ample assets alone would do her a great disservice, as the ultimate country singing glamour puss is more than just a large pair of breasts in a glitzy over-the-shoulder-boulder-holder. Dolly Parton is instead a true uplifting gay icon. A go-getter. A dazzling dynamo, who's part firecracker, part busty barmaid, with just a touch of sass thrown in for good measure. She's everything gay boys love about strong-willed passionate woman, who don't take no crap from no one – no way, no how! What should perhaps also be noted about Dolly is that she's had a career that's lasted longer than it takes most guys to get dolled up for a night on the tiles and is still going strong. Oh she might have more cleavage than a Page 3 photo shoot, but there's so much more to the flamboyant Queen of County than you might think and that's why she's been a fascination with countless gay guys for years!
Dolly grew up poor. We're not talking 'can only afford to buy one All Saints T-shirt this month' poor we're talking 'what's money?' poor. Yeah you think you've got it bad working in that call centre day in, day out, but Dolly probably wouldn't have recognised money even if it had been stuffed into her hand and she'd been told she could exchange it for goods. However a lack of cash didn't stop her from doing what she loved to do the most, which was singing and writing songs and eventually after a bit of persistence and a lot of hard work, someone took notice of her. From there she secured an album and sang her little lungs out for the best part of a decade until her self-penned release 'Jolene' took the charts by storm, followed by the now immortal 'I Will Always Love You'. That was it, Dolly had made it and as the years went by she managed to rack up a number of impressive hits, cropped up on a variety of TV shows and even found time to open a theme park. She also won some awards, became a movie star, went on tour, set up her own record company and of course released her much loved hit '9 to 5' (from the film Nine To Five). Don't even try to claim that you haven't spent many a night dancing in a cheesy club to that particular tune, because in the official Gay Handbook it states that as a member of the Homosexual Fraternity you have to gyrate to it whenever it comes on! But work related songs aside, Dolly managed to do all of those things without straying too far from her trademark image as a buxom blonde, with a tiny waist and luscious lippy. You know the sort that fits into a stereotypical subsection that most people never take seriously. But they took Dolly seriously. She sang from the heart (with a number of her songs recalling childhood experiences), never stopped working hard and used her brain to walk through the doors that her boobs opened.
Dolly is a tiny stick of dynamite, with enough firepower to turn the heads of all the boys. She's a flawless performer with more attitude than a scene queen out on the pull. By her own admission she's no stranger to having a little nip here and a tuck there and it's all helped her to perfect her pristine persona. Without Dolly Steel Magnolias (1989) would have had to go without Truvey's beauty salon, Kenny Rogers would have had to sing 'Islands In The Stream' as a solo and Whitney Houston wouldn't have had her biggest hit. There would also have been a severe slump in the sales of hair lacquer and people would have dismissed country music as something sang by middle age blokes in Stetsons. Dolly is an inspiration, a force for good, demonstrating that dreams can become a reality despite initial setbacks. It's partly for this reason that many gay boys have found her so captivating and have seen within her a queer quality about remaining true to one self that resonates deep within them. There's no one quite like Dolly and so next time you hear her name maybe you'll think about who she really is and what she represents, instead of being distracted by her knockers. Come on boys, let's not take everything away from the straight lads.
HELLO DOLLY!
*Many years ago Elvis Presley had planned to cover Dolly's hit 'I Will Always Love You', however as part of the agreement he would have owned over half the rights to the song. Proving that she's a shrewd business woman Dolly turned him down and instead went on to make millions in royalties from the track.
*Dolly built her theme park, Dollywood, in Tennessee, which helped bring jobs and money to a once deprived area. It was Dolly's way of turning things around so that others who had been in a similar situation as she had been as a child, would no longer have to struggle the way her family had.
*In response to her efforts to remain youthful, Dolly famously once said, "It takes a lot of money to look this cheap."