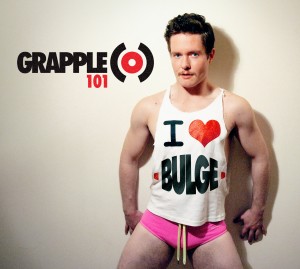 GRAPPLE101 – BULGE – After the huge success of the sports-wear and underwear night for Fetish Week, we are now opening the doors with FREE entry before 10pm for anyone wearing sports kit, lycra or underwear.
GRAPPLE101 – BULGE – is all about celebrating men who love a BULGE…
Bulging Biceps, Bulging Pecs, Bulging Abs – Six pack or Party Pack! Bulging Bums & Bulging Balls
But this isn't just about the body beautiful and massive muscles (although we fully encourage them); Sports BULGEs come in all shapes and sizes – from long distance lithes to rugger buggers. Its not about the size of the bulge its about how you package it!
WE NEED YOU!
GRAPPLE101 has always been about you, so we wanted to create a new poster that reflected that.
We would like you to send us pictures of your bulges so we can create a BULGE Mosaic – A wall of beautiful BULGE. Remember this is a sports wear night so keep your pictures on-theme – this is about the package, not the pork… about the fetish not the flesh.
For a chance to have your BULGE on the poster; to see the pictures others have sent and to vote for your favourites.
GRAPPLE101 – BULGE – is Every Wednesday night at The Eagle London, 349 Kennington Lane, Vauxhall, London SE11 5QY