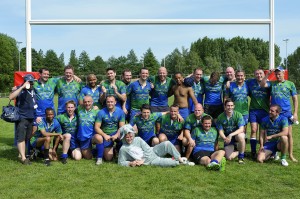 The world oldest gay rugby club Kings Cross Steelers RFC, retain the title of European champions for the third time after winning the Union Cup 2011.
This biennial tournament held in Amsterdam last month, saw the London-based club win the XVs section and the second team come runners-up in the Xs section.
In a tense and gripping final, the Steelers XV beat their old rivals the Manchester Spartans who dominated the opening minutes of play. This however, could not match the experience, strong defence and the constant attack by the Steelers. With expert passing and strong defence the London side won by an overwhelming 29-0.
Overall this tournament was a resounding success for all of those who took part. Eleven teams from the UK, Ireland and the continent played hard in two levels of competition, with many scoring their best performance yet. New teams from Europe included Straffe Ketten from Brussels and Dark Horses from Lisbon.
www.kxsrfc.com
Photo: kevinscott.org