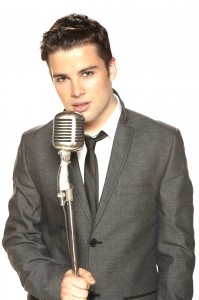 By Lee Hudson

I've always liked Joe, from his first audition in 2009's X Factor right through to him winning the series, I was there shouting him on, voting like mad and wishing him success. He was cute, unassuming and, a bonus, he could sing. His shy little crooked smile and a voice that could cope with just about any style of song set him apart from all the other desperate hopefuls on the show.
Apparently, being nice and talented isn't enough, and although Joe did all he was asked to do while signed to Simon Cowell's Syco label, it simply wasn't enough. Still, the Syco label and Simon himself have now moved on leaving this good-looking Geordie lad to fend for himself.
OK, did anyone see the first edition of Popstar to Operastar? No? Yes? Well, the lovely Joe appeared as the first singer on the programme and set the bar so high for natural ability, the rest of the cast are going to struggle to get anywhere near the boy. Not that I'm a great fan of all that silly foreign singing (never really got why it all needs to be sung in jibberish… but then I am common as muck) but dear Joe nailed it. Not necessarily to the judges complete satisfaction but once again he proved, give him a song and he'll sing it.
Personally, whether he wins this competition or not, I want to see and hear more of him. Musical theatre is obviously his first love, where he's at his most comfortable and I think the powers that be have jumped ship far too early on him and that he'll be back in the main frame soon… possibly taking the West End by storm and becoming the next Michael Ball or Michael Crawford.
Whatever the future holds I wish Joe success and can't wait to see him perform again soon, whether that's in a gay club or a Pride event… let us see your talent. In this day and age, it will be a nice change from just seeing someone's ego.
Popstar to Operastar – ITV – Sunday 8pm

Photo: ITV