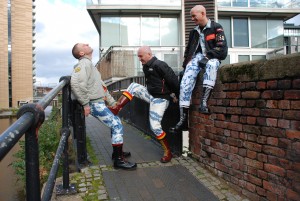 Manchester Gay Skinhead Weekend is now in its 7th Year and takes place from 24th – 26th June.
The action kicks off at the Eagle on Friday night, moving on to the ever popular Alert!.
Saturday sees a SKIN ONLY afternoon in the Rem Bar (Show Bar) on Canal Street, followed by the Eagle later on Saturday evening and into the small hours. After a relaxing breakfast meet at Taurus on Sunday the action moves on to the Basement Sauna for Sauna Skins and then ends up with farewell drinks back at the Rem Bar.
This year sees the addition of the exciting new Strictly Stomping competition where the winner will walk away with fantastic prizes as well as the opportunity to see themselves on the promotional material for the 2012 skin weekend.
Register at www.promo729.net before the 5th June.
Manchester Gay Skins is a not for profit group and all profits go to MGS nominated charities.
Full details are listed on the Manchester Gay Skins Website – www.oi-skinhead.com