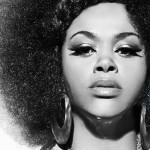 JILL SCOTT FT. ANTHONY HAMILTON
So In Love
27th June
Jilly from Philly, the star of HBO/BBC's The No. 1 Lady's Detective Agency and winner of three Grammy Awards, returns from the success of The Real Thing: Words and Sounds, Vol. 3 with her new album The Light of the Sun. 'So in Love' is the first single from this album with her new contract at Warner. 'So in Love' is classic Jill, with laidback grooves, mellifluous vocals and neo-soul sass. While 'So in Love' doesn't reach the intoxicating heights of 'Love Rain' or the free-flowing jubilance of 'He Loves Me (Lyzel in E Flat)', it's threaded with a real sunshine funk that's guaranteed to put a smile on your face.
---
https://mag.bent.com/alt-scene-dating/ALEX GAUDINO FT. KELLY ROWLAND
What a Feeling
Out Now
R&B has gone out of fashion with music buyers. Kelis knows it, Snoop Dogg knows it and Kelly Rowland definitely knows it. After working with David Guetta on two smash hits, and now having two UK number ones under her belt, she's turning to another dance legend, Alex Gaudino, to hit the charts again. Gaudino is best known for 'Destination Calabria', which long ago became a clubbing anthem. The collaboration is inspired. Gaudino and Rowland slow down the tempo right down, instead offering a euphoric summer vibe perfectly suited for parties on the patio. This lacks the gusto of 'Commander' and the elation of 'When Love Takes Over', but nevertheless achieves something transcendent and sublime, and
---
naked dating youtubeCALVIN HARRIS FT. KELIS
Bounce
13th June
The woman whose frothy dairy products bring the boys to the yard is in the capable hands of Cavin Harris this time, as she continues down the road of dance deliciousness. 'Bounce' is a sexy electro house track with heaps of attitude and that smoky Kelis flavour. Calvin Harris' production work is smooth and sophisticated, riddled as usual with 80s touches, but sounding overall like a thing of the present rather than the past. This will be a good year for both Cavin and Kelis.
---
https://mag.bent.com/my-cougar-dating/JASON DERULO
Don't Wanna Go Home
20th June
Jaaaaasoooon Derrruuuulo teams up with the Fliptones for his latest chunk of infectious urban pop. This track is an unabashed escapist jaunt into summer, and is radio-friendly but of course totally disposable. Expect Jason to pop up in shades at every festival going and to be played to death on the radio (he's the ninth most-played artist on British radio). This is one for the teeny-boppers.