Rugby League's Gay support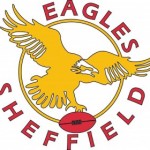 On 13th March at 3.00 pm, Sheffield Eagles' first home game of the season, the team will be walking onto the pitch wearing a kit carrying the message 'HOMOPHOBIA – TACKLE IT' sponsored by LGBT History Month and Pride Sports. The team will also be presented with the Pride Sports Challenge Cup, a trophy that will recognise, annually, Rugby League teams which support LGBT History Month. Sheffield Eagles RLFC are the first professional sports club in the UK to make a public stand against homophobia in sport. The team are not just wearing the kit, however, they have supported a number of LGBT History Month events, travelling across the country to show their commitment to dealing with this issue. For those of you who fancy a more 'hands on' experience, there will also be a fun touch rugby event before the game run by Sheffield Eagles coaches, which is free to anyone attending the match in the afternoon. So there's a chance to give it a go before you watch the professionals at work.
Join us, help fill Bramall Lane Stadium in Sheffield on 13 March 2011 and enjoy some great rugby league!
Tickets can be ordered for this game, from the Sheffield United box office telephone:
08719 951889
eplica shirts can be purchased from
www.eaglespride.co.uk