RED CARD TO HOMOPHOBIA IN SPORT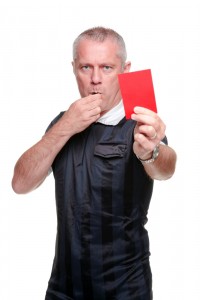 Britain's biggest sports are backing a new government campaign to stamp out homophobia and transphobia.
The Football Association, the Lawn Tennis Association, the England and Wales Cricket Board, the Rugby Football League and the Rugby Football Union joined the London Organising Committee of the Olympic and Paralympic Games (LOCOG) in becoming the first signatories of the Charter for Action, which aims to make sport a welcoming environment for lesbian, gay, bisexual and transgender (LGB and T) people.
The Charter has four points:
* We believe that everyone should be able to participate in and enjoy sport – whoever they are and whatever their background.
* We believe that sport is about fairness and equality, respect and dignity. Sport teaches individuals how to strive and succeed, how to cope with success and disappointment, and brings people together with a common goal.
* We are committed to making these values a reality for lesbian, gay, bisexual and transgender people. We will work together, and individually, to rid sport of homophobia and transphobia.
* We will make sport a welcome place for everyone – for those participating in sport, those attending sporting events and for those working or volunteering in sports at any level. We will work with all these groups to ensure they have a voice, and to challenge unacceptable behaviour.
Equalities Minister Lynne Featherstone said: "Sport should be about what you can do, not who you are. But too many lesbian, gay, bisexual and transgender people feel that the sports field is not somewhere they can be themselves, and that prejudice and discrimination will mean their sexuality is always talked about more than their ability with a ball, bat or racket. I'm delighted that so many sporting bodies are backing our campaign to stamp it out at all levels, from local parks to Olympic stadiums."