Reboot your New Year's resolutions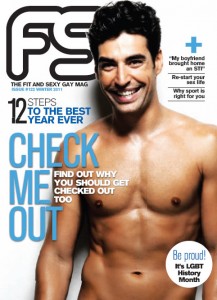 So how are those New Year's resolutions going? If you've fallen at the first hurdle, don't despair. The latest issue of FS magazine from GMFA, the gay men's health charity, is full of great advice on how to make this year the best ever. Here are just a few of the suggestions to get you off to a good start and make changes that really matter:
Re-start your sex life:
If you find you've got into a sexual rut, whether you're in a relationship or shagging around, why not try something different? Try new positions, different locations, slap his arse and call him Nora, anything to break the routine and spice things up.
Make new friends and improve your social life:
There are plenty of ways to make new friends; for example, volunteer for a charity or other organisation, and as well as doing something worthwhile you'll meet new people and learn new skills.
Go for a sexual health check-up:
If you've ever had sex, you could have picked up a sexually transmitted infection, or STI, including HIV – which can affect not just your health, but the health of anyone you sleep with too. www.gmfa.org.uk/clinics.
Boost your confidence:
Adam Clark of Gay Life Coach comments in FS: "The key to boosting your self-esteem is giving yourself positive messages about who you are. Start by making a list of your positive qualities. Think about completing the statement 'I like myself because I am…' It may be that you're kind, considerate or sensitive; you may have overcome obstacles in your life, or be successful at work. Over the days to come, read out this list to yourself. You'll be amazed to see how much this simple exercise will begin to change the way you feel about who you are."
Issue 122 of FS magazine is available for free in gay venues and GUM clinics across the UK or you can view it online at www.gmfa.org.uk/fsmag.