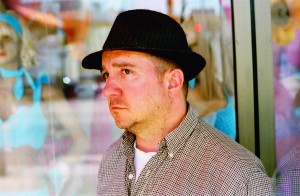 The Magnetic Fields are the music of songwriter- producer-instrumentalist Stephin Merritt, who lives and records in New York City. Adept at computer music programming and production, Merritt records his own albums and plays almost everything on them with help from cellist Sam Davol, banjo player/second guitarist John Woo, and percussionist/pianist Claudia Gonson. Stephin Merritt's openly gay identity as singer and song-writer of the Magnetic Fields has led some fans to humorously dub The Magnetic Fields' genre as "gay synth-pop." In an interview with The Advocate, Gonson famously remarked:
"When we started Magnetic Fields we purposely had one lesbian, one gay guy, one straight woman, and one straight man. The audience could identify with whomever they wanted. I hang out with more gay women now, but I guess I'm more of a fag hag than a lezzie hag."
In that interview, Gonson noted that she feels that Merritt's songs are predominantly about "Loneliness, isolation, and the need to be recognized by another person." She believes that if homophobia were not so prevalent, these experiences "would be less rampant instead of being so associated with the gay personality." Gonson believes that many LGBT youth and straight young females turn to The Magnetic Fields for "words of wisdom." There's a new documentary about the band out now called "Strange Power".