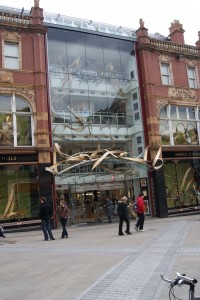 Leeds is the 3rd largest city in the UK according to population, economic importance and size of urban area. There's a huge student population and perhaps most notable for a city this size, a centre that is compact and easy to negotiate. Visitors always marvel at how much Leeds has to offer and just how accessible and shopper friendly the place is. The rejuvenated arcades boast an incredible array of trendy, label and boutique outlets and a 'café culture' that seems to have taken off big time in recent years.
For the gay visitor Leeds has bars and clubs to suit just about everyone's taste. The oldest gay bar in Leeds, The New Penny, still has its army of loyal followers, while less than a stone's through away the rest of the vibrant scene flourishes. The Bridge, Blayds, The Viaduct Showbar, Bar Fibre and the ever present Queens Court are situated at the bottom end of Lower Briggate giving the city its own 'gay quarter'. Also situated in this area is the main club Mission and one of the two gay saunas, Basement, which is sandwiched between the Mission complex. For the other sauna you'll need to travel a couple of miles out of the city centre to Armley, where the large and inviting Steam Sauna has a continuing programme of special events. According to police figures, the gay quarter is one of the safest places in the city with regular patrols and a LGBT liaison officer to help with any related problems should they arise.
One of the country's top chefs Marco Pierre-White is from Leeds and his legacy has meant the centre and its surroundings boast a welter of excellent restaurants, with a fantastic cross-section of culinary styles and delicious food.
This year on the 7th August Leeds hosts its 6th annual Pride, which kicks off in the afternoon in Millennium Square with a huge concert featuring big name stars and local celebrities. Later, the party continues down in Lower Briggate where the streets are cordoned off and, according to 2010 figures, over 30,000 people paid the event a visit.
Leeds has a thriving gay scene and is justifiably proud that although the venues décor may change, the gay visitor is made more than welcome.