Elton and Ga-Garden Gnomes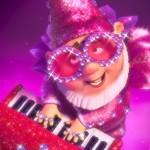 By Pedro Caiado
Elton John has been pretty busy lately. Since his son was born last December, using an American surrogate mother, the 63-year-old musician has been occupied changing diapers and enjoying fatherhood. However the Rocket Man recently released the long awaited animated film which he and his hubby David Furnish co-produced, Gnomeo and Juliet.
"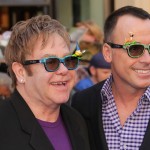 We had a baby that took nine months to be born but this movie took 11 years. It was like giving birth to a whale, but we are so proud with it. This a wonderful film that in five years time, our son will love to watch,said Elton John during the London premiere.
Elton has lent his back catalogue of hit records to the movie soundtrack and recorded a new duet with superstar Lady Gaga titled Hello, Hello! Elton confesses, She's one of my new best friends. We just mentioned the film and the song and even being very busy she said she'd love to do it."
Devil Wears Prada star Emily Blunt lends her voice to Juliet. Despite the excitement she showed in the press conference at the Dorchester Hotel, in London, it was not always the case. They called me and said – 'it's an animated movie'; I said, 'great!' Then they said – 'it's called Gnomeo and Juliet'; I said – 'Ohhhh, God, really?' But when I read the script I completely fell in love with the story,explains Emily. She admits she was a little bit gnomophobic before this movie, but I'm seeing gnomes as romantic and charming little things now.