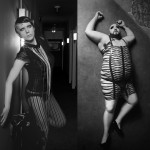 Hot on the heels of Billie Ray Martin's new solo single 'Sweet Suburban Disco' comes a stunning collaboration with darlings of the underground Hard Ton.
On a new song entitled 'Sold Life' and a cover of Phuture Phantasy Club's classic 'Fantasy Girl', Billie returns to her classic house beginnings and a nod to her Electribe 101 roots.
After first appearing as a guest singer on electro pioneers S-Express's hit single 'Hey Music Lover' (as well as two tracks on their debut album), Billie Ray Martin came to greater prominence leading the acclaimed deep house act Electribe 101, her unique voice hitting the house scene and charts alike with a serious infusion of soul. Electribe 101 scored a brace of hits including the classic "Talking With Myself" before Billie departed to continue exploring fusions of electronic music, pop and soul. After releasing the thoroughly scary "Persuasion" with Spooky and the monumentally beautiful "Four Ambient Tales" with The Grid, Billie found herself with a worldwide number 1 in "Your Loving Arms"; now considered one of the all-time classics of dance music. Three more hits and the album "Deadline for My Memories" followed.
Sold Life E.P. Out: 26th April – Disco Activisto