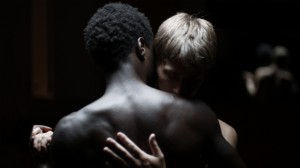 The gorgeous beaches and towns of the Bahamas are the setting for Children of God, a strong and tender romantic drama from first-time filmmaker Kareem Mortimer. Percolating under the hot sun and sand are religious intolerance, political grand-standing, family woes and hopefully enough love to conquer them all.
Johnny Ferro plays an art student in Nassau whose technique is perfect, but he's creatively blocked. On a trip to the island he meets Romeo, played by Stephen Tyrone Williams, a hot musician and the pair begin a clumsy dance of attraction and romance.
Filming Children of God in the Bahamas must have been a brilliant location to work… all that sun, sand and… sea?
S. There was something comfortingly familiar and at the same time refreshingly new about the shoot. I'm a Southern boy and the hospitality of Nassau reminded me of home. In the same breath, we took a mail boat over to Eleuthera, what the Bahamians call a family island, and it was like nothing I had seen: crystal clear water as far as you could see and untouched beaches with pink sand. I'd like to continue to travel and tell stories abroad.
J. It was amazing. There's nothing like hearing "Cut!" and then just staying in the water.
How did the locals react to a mixed race/same sex love affair?
J. We tried to keep that out of the open while we were filming. The locals obviously knew us as the people making a movie on the island, but very few knew what it was about.
S. Like any place, there was a mixture of reactions. Some of them negative, Brokeback Mountain was banned in two countries worldwide: China and the Bahamas. So I had an idea of what to expect. What I did not expect was that Children of God would make its World Premiere as the Opening Night film of the 2009 Bahamas International Film Festival. So there were positive reactions, too.
Johnny, you've recently won the Best Actor category at Atlanta's Out on Film gay and lesbian film festival… do such honours go to your head… and have you won any other awards?
J. There were a few minutes after I found out that my head may have blown up a bit, especially knowing that James Franco was the runner up, haha. Of course now he's been nominated for an Oscar, so that kind of pops that bubble. As for others, that was my only personal award, though the film itself has won quite a few.
Stephen, in the movie your character is teaching Johnny to learn to relax… what do you do to relax?
S. For the most part, I am laid-back and chilled, but it doesn't get more relaxing than cooking a nice dinner with a glass of red with Miles Davis playing.
Who would you like to be stranded on a beach with?
S. Rumi, Nina Simone, and James Baldwin
Have you appeared in many other gay productions?
S. I don't know what a gay production is, but I have played gay characters. I've done Moises Kaufman's play, THE LARAMIE PROJECT in NYC. There's the short film, FLOAT that Children of God is based and Michael Saul's feature called DON'T ASK, a part of his film collection CRUSH.
J. Nope, Children of God is the only one.
Is there an actor you'd love to play opposite or character you'd kill to have?
J. I'd love to be in a film with Johnny Depp, though the billing might look weird. "Starring Johnny Depp and Johnny Ferro," haha. I've always wanted to play the villain in a comic book movie, someone smart and completely crazy. I'd really love to play the Riddler in the next Dark Knight, but I think Joseph Gordon-Levitt got that one.
S. It's a long list.
What will we be seeing you appear in next?
S.If you were following SUNDANCE this year you caught me in the World Premiere of Andrew Dosunmu's RESTLESS CITY. Prep School Boys Cinema's STAG & DOE, winner of the 2010 HBO's short film competition is currently airing on HBO and HBO On-Demand. And if you're in New York, you can catch me off-Broadway in Adam Rapp's HALLWAY TRILOGY.
J. I've just finished filming a pilot… but that's all I can say at the moment.
---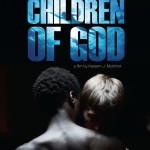 Children of God
Beautifully paced and with three separate story-lines that merge at the film's climax, the filmmaker really has done a great job with his small budget. The Bahamas are bound by religious traditions that discourage homosexuality and end up forcing gay men into the closet, but Romeo, a local Bahamian, has a fiancé and is identified as straight, although he's been known to secretly play with the boys on the side. Johnny, a visiting but up-tight artist, needs to find a way to relax and let his creative juices flow but when the two meet that 'forbidden' attraction is formed. Meanwhile, Lena is a pastor's wife. Her husband demonizes homosexuality to further his career, yet he's not all he seems and she needs to know more.
Out: 12th March – £15.99 – tla releasing
To be in with a chance to win a copy of this DVD, just answer this simple question:
In which ocean are The Bahamas?
---
Bent Magazine Prize Draw Terms & Conditions
1. The prize draws are open to UK residents aged 18 and over. 2. No purchase is necessary. 3. Only one entry per person is allowed and multiple entries will result in an entrant being disqualified. 4. The deadline for receiving entries for the competition is the last working day of the magazine's month. 5. Winners will be notified within 28 days after the competition closes. 6. Proof of delivery or email will not constitute proof of entering the prize draws and no responsibility will be accepted for lost, corrupted, delayed or mislaid entries. 7. The winner(s) will be the first valid entry drawn at random. 8. Bent reserves the right to substitute the prize for another prize of equal value. 9. There are no alternative cash prizes. 10. Bent Magazine's decision is final and no correspondence will be entered into. 11. When you enter a prize draw, your details will be used to provide you with updates, information and promotions from Bent and other members of APN Ltd. You can opt out at any time by following the Unsubscribe link on the bottom of every email or by sending an email to unsubscribe@bent.com asking to be removed from our mailing list. 12. By submitting an entry, all entrants acknowledge and accept these terms and conditions. By taking part in any prize draws or competitions, you agree to be bound by these rules and the decisions of Bent Magazine which are final. 13. Bent Magazine reserves the right to disqualify any entrant and/or winner in its absolute discretion for any reason and without notice.